by:  Cory Brady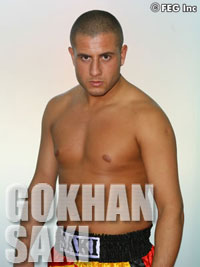 K-1 put on another highly entertaining show Saturday night with the USA Grand Prix from Honolulu, Hawaii. For those unfamiliar with the K-1 GP elimination format it is set up as follows. Eight fighters fight in quarterfinal bouts, the four winners of those matches advance to a pair of semifinals where the winners of those bouts clash at the end of the night in the final.
In the first GP bout of the night, 6'1″ slugger Mighty Mo took on 6'9″ behemoth Justice Smith. This bout was a somewhat sloppy affair that saw Mighty Mo receiving flagrant knees to the groin and headbutts from an extremely akward Justice Smith. Mo seemed frustrated with Smith's antics and was able to mount enough offense in the form of wild power punches to win a majority decision.
The second tournament bout of the night saw UFC veteran Wesley "Cabbage" Correira go up against a man that needs no introduction, Butterbean , in a battle of the big boys. The first round saw very little action as the two men looked to size each other upwith pawing jabs and occasional leg kicks. Early in the second round Cabbage was able to deliver a left high kick to the side of Butterbean's head that had him stumbling and crashing face first into the canvas. Butterbean was able to beat the count but the referee waved the bout off as he sagged to the ropes giving Cabbage the second round knockout victory.
Twenty four year-old Turk Gokhan Saki was a late replacement in the tournament with only 4 previous K-1 bouts to his record. He ended up with a spot in the tournament after scheduled fighter Chalid Die Faust could not secure a visa. Gokhan Saki faced local Hawaiian based fighter Deutsch Puu in the nights next Grand Prix bout. Saki made very quick work of Puu by working over his legs with paralyzing leg kicks and finishing him in the first.
The oddest fight of the night came in the final quarterfinal bout with Nicholas Pettas and Rick Cheek. The fight starts out normally enough with both fighters sizing the other up and exchanging leg kicks. Halfway through the first Pettas throws a soft leg kick and makes a time out gesture to Cheek. As Pettas turns his back and  walks away the referee follows and waves off the bout. Afterwords it is revealed that Pettas had aggrivated a groin injury that he had sustained in training for this bout.
Mighty Mo was unable to continue in the tournament due to injuries he had sustained in his fight with Justice Smith so reserve fighter Randy Kim stepped up to face Wesley "Cabbage" Correira. The first round was fairly even with both fighters exchanging blows but neither really dominating the other. Kim went to work on Correira's legs in the second round dropping Cabbage face first with a leg kick at the midway point. Cabbage was able to bring himself to his feet only to be dumped back to the canvas from Kim leg kicks securing Randy Kim's unlikely spot in the finals.
Rick Cheek looked to come out aggressively against Gokhan Saki in the nights other semifinal bout. Gorkan was able to weather Cheek's initial barrage and send him to the canvas courtesy of some painful looking leg kicks. Cheek was able to rise from the canvas only to be met with a crushing body punch that left him crumpled on the canvas only moments later.
The nights final bout saw reserve fighter Randy Kim go up against late replacement Gokhan Saki in a match nobody could have expected. Saki opened up with some fancy kicks that had Kim on the defensive before he dropped Kim with a hard left. Kim was able to beat the count but was visibly shaken. Just moments later Gokhan Saki landed a devastating left hook that ended the night for Randy Kim sending Saki to the K-1 World GP '08 Final 16 Tournament, set for September 27 in Seoul on the heels of this impressive cinderella story performance.
In one of the nights superfights K-1 heavyweight champion Badr Hari met Domagoj Ostojic in a fight you would have to see to believe. After the bell rang the fighters circled each other where Hari threw a leg kick that Ostojic checked. Hari throws another leg kick that is checked and the two fighters throw simultaneous punches that connect. Ostojic lands a hard left hook on Hari that sends Hari reeling just as Hari lands a funky straight left that completely knocks out Ostojic. If Ostojic had not been knocked out from the blow it was clear that Hari was in serious trouble himself but in the end it didn't matter.
The fight of the night was without a doubt Paul Slowinski taking on Aziz "Iceman" Jahjah in one of the most exciting K-1 fights in recent memory. These two warriors exchanged blows in the center of the ring throughout a fairly even first round. Things got crazy in the second as Jahjah dropped Slowinski with a clean punch. Jahja closed in for the kill when Slowinski got to his feet only to be dropped himself by a hard counter right hand compliments of Slowinski. Jaja was able to rise from the canvas to drop Slowinski yet again with a hard right hand. The rest of the round saw Jahjah closing in on Slowinski but not doing enough to finish him. Jahjah was visibly tired going into the third round and unbelievably Paul Slowinski found it inside himself to turn up the heat and pummel Jahjah with hard punches en route to a stoppage win in this back and forth war.
Another great night of fights in the K-1 organization that spawned a cinderella man that many will be watching extremely closely going into the K-1 GP Finals in Seoul, Korea.