By Denny "The Mad One" Hodge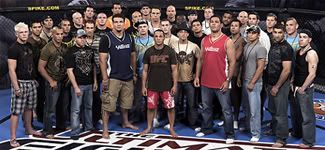 We're down to the last Light Heavyweight bout before the semi finals are locked up.  Last week Krzysztof cemented his place in the semi's with a victory over Kyle Kingsbury in a pretty lackluster Light Heavyweight showdown that ended with Kyle suffering defeat via an armbar.
John Polakowski is shown bouncing enthusiastically in the van on the way to the house, and is described by Shane Primm as "legally insane".  We are treated to a video montage of John's hugs, and he describes his "nuclear reactor" energy.  John Polakowski and George Roop will be facing off with a stake in the semi finals up for grabs in tonight's bout.   
George Roop explains that John is "one of the nicest guys in the house" but stresses that he will make John "bleed"  in their fight.  George explains that he was "the skinny white kid" that got picked on until he started fighting and is out to prove wrong everyone that told him that he couldn't make it.  
During sparring with Shane Nelson, George catches his hand in the cage, and thinks that he may have broken it.  George realizes the implications but says that "it's a once in a lifetime opportunity", and if he has to fight one-handed, then that's what he will do.
More wackiness from John, sporting a pirate's hat, and screaming "fire the cannons."   A cardinal sin is then committed with someone taking the marshmallows out of John's Lucky Charms.  That is sacrilege!!  You just don't mess with a dude's Lucky Charms.  The happy go-lucky John is pretty pissed about the whole prank.
George's hand looks like he's wearing a flesh colored MMA glove it is so badly swollen, and during his training session, he is pretty much going left handed all the way.   It appears that he won't have much use out of his strong hand so it will be interesting to see what he can do against John in their bout.
John is bringing his infectious attitude to the training center attacking Frank Mir first thing in the morning. John, his bright pink hair, and George all make weight with no problems.
Big Nog makes another appearance at the house and wastes no time messing with George Roop, saying "We are going to beat you man, it's going to be me and him against you."  
John and George meet in the kitchen and agree that there will be a tap of the gloves followed by a good ole fashioned John Polakowski hug before the fight begins.
It's fight time as both guys make their way to the Octagon, and as promised, the fighters embrace in the first ever hug before a UFC TUF fight.  
Roop goes high with a nice head kick but it's blocked by John.  The fighters clinch for a second and George fires a quick knee.  Roop is using his kicks efficiently staying on the outside and protecting his hurt hand. John seems to be having trouble with George's reach and is missing on most of his punches.  
George shoots in and gets a nice takedown landing in John's  full guard.  George works some GNP, and is working to push John against the cage.  George is now in side control and firing knees to John's midsection. John is scrambling but is unable to sweep or reverse George's dominant positioning.  
Roop is now in half guard, and quickly transitions to John's back and gets the first hook in, followed by the second.  Roop is now in a good position for the RNC, but John turns in and reverses ending up on top in George's guard.
Not much action from John on top, with George working a high guard looking for a possible triangle or arm bar.  John lands a single hammer fist, but has not been overly effective on top.  George is staying pretty offensive from the bottom throwing some punches from the bottom as the round comes to an end.
Round 2 begins with Roop coming out quick across the Octagon and landing a nice body kick.  Both fighters are exchanging more now with punches, and John hurts Roop with a right and proceeds to stalk George down.  John is continuing to close the distance and land some big shots.  Roop is visibly gassed, and John smells the blood.  
The fighters clinch and Roop is throwing but with no power behind his shots.  John works the clinch, but is on the bad end of a knee, and comes back throwing nice lefts and uppercuts.  Roop shoots for a lazy takedown and gets it and is now back into side control.  
John works back to half guard, then back into full guard.  Roop is throwing some shots now, and John is bloodied.  George catches John with a big elbow, and John scrambles but ends up turtled with Roop on his back again.
Roop secures the body triangle and John is in trouble, with George working for the rear naked choke.  Roop alternates going for the choke and landing elbows to John's body.    36 seconds to go and George is in total control.  It's decision time.
The decision is in, and we are not going three.  The unanimous decision is awarded to George Roop.  Dana White disagrees calling it "bad judging", and saying that this fight should have went three rounds.  The final results are in with Mir advancing 5 fighters to the semi-finals vs. Nog's 3.
It's party time, with John hitting shots at the house and being himself again.  Team Nogueira starts throwing fruit and eggs over the balcony with one hitting Junie in his chest.  Junie goes ballistic and slams the door yelling at the guys to stop throwing stuff.
The coaches meet with the fighters and get their take on who they want to fight.  It's unanimous right away with Bader wanting to see Eliot, and Eliot also wanting a shot at Vader.  Dana and Mir explain to Eliot that it isn't very strategic to pick Bader in the first round. 
It seems that everyone wants a shot at Bader, as Junie also expresses his desire to face the Light Heavyweight.
Dana announces his decision and it looks like this:
Wednesday:
Bader vs. Marshall
Nover vs. Roop
Thursday:
Krzysztof vs. Magalhaes
Browning vs. Escudero
We are all set for the semi's, and the preview for next week shows a glimpse of the match ups.  In an earlier preview we see that Junie loses his temper again and goes after Shane Primm at the house.  It must be a continuation of the egg throwing escapade earlier in this show.  I guess we'll have to see if Junie blows his opportunity to fight for a spot in the finals.