By Denny "The Mad One" Hodge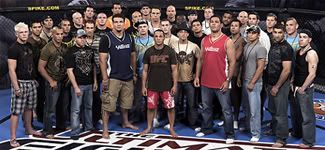 We're down to the last Light Heavyweight bout before the semi finals are locked up.  Last week Krzysztof cemented his place in the semi's with a victory over Kyle Kingsbury in a pretty lackluster Light Heavyweight showdown that ended with Kyle suffering defeat via an armbar.
John Polakowski is shown bouncing enthusiastically in the van on the way to the house, and is described by Shane Primm as "legally insane".  We are treated to a video montage of John's hugs, and he describes his "nuclear reactor" energy.  John Polakowski and George Roop will be facing off with a stake in the semi finals up for grabs in tonight's bout.