by: Denny "The Mad One" Hodge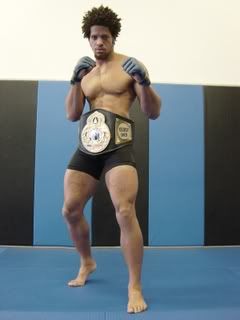 Remember Matt Major from his appearance on theTapout reality show on Versus?
"Superfly" has been busy since his appearance with the Tapout crew training for his next fight on August 23rd against Shonie Carter and planning his future as a contender at 185.
PRO MMA caught up with Matt this weekend to see what he was up to, when we could see him fight again, and how that George Foreman grill is doing:
PRO MMA:What's up Matt, great to talk to you. Where have you been since the show, and when will we be able to see you again?
Matt: I've been with AKA for the past couple of weeks, and I'm getting ready for my next fight.
PRO MMA: Who and where will you be fighting?
Matt I'll be fighting for Cage Combat Fighting on August 23rd headlining the show against Shonie Carter. Chuck Liddell will be there, along with the Tapout crew.
PRO MMA: Speaking of the Tapout guys, how is that relationship these days?
Matt: Man the camera's tripped me out. I've never been on TV before you know? It was a good experience, and I know I'm a bad ass fighter and I'll be a world champion one day. I knew a lot about the business side of the clothing lines even before the show. A lot of people don't know this but I went to school at the Fashion Institute of Technology of New York.
PRO MMA:Anything else you'd like to add about your time on the show?
Matt:The appearance on the show was a good thing as it helps promote the fighters. The publicity from the show has helped me in my career.
PRO MMA: So what's up with the George Foreman grill? Do you still have it?
Matt: No. Some homeless guy stole it. But it's cool because I got a new one!
PRO MMA: Where do you want to fight next, and what do you think about the bigger organizations, and where will you be in the coming years?
Matt: I was supposed to fight for EliteXC. I want to come up the ranks and get into the WEC or the UFC. I want to fight the best fighters in the world. I want to fight in Dream. I want to do it like Van Damme fighting for the Yakuza and tell my grand kids I fought in Japan in front of 80,000 people. I'm in it to get Samurai swords and beat everybody.
PRO MMA: Speaking of the UFC, tell me about your fight with Jesse Taylor.
Matt: Man, I fought him and he didn't lay and pray on me man. I was whooping his ass, landing knees. The problem was, it was 3 minute rounds and I had him in a D'arce choke the whole first round but didn't have time to finish the fight. He won a close decision in his hometown. If it would have been 3 five minute rounds, it would have been different.
PRO MMA: It was reported that Jesse was released again from the UFC for talking about Rampage during his troubles. You have been known to speak your mind in the past and during your time on the Tapout show. What are your thoughts on Jesse and what he said?
Matt: Like I said on the show, I'm not a politician man. I can't work a 9 to 5, I can't sing or dance, you know? The fighters need to be taken care of. They get in the ring and put their life on the line, and when they are out of the ring they can't say what the they want to say? Jesse Taylor should have been able to say whatever he wanted to say about the situation.
PRO MMA: Who would you like to fight in or out of the UFC?
Matt: Jesse Taylor again. Amir Sadollah, that's who I want to fight. I want to fight Amir. CB Dollaway too. If I go to Japan, I want to fight Mayhem Miller, Jacare, and Melvin Manhoef. I'm telling you, I'll beat all of those guys.
PRO MMA: Where do you think MMA is heading?
Matt: I think it's in trouble man. We need to show the world that the game is bigger than just the big organizations. The fighters that get paid like $2,000 is bullshit. You have guys making two grand, and can't pay their medical bills.
PRO MMA: So you really think MMA is in trouble?
Matt: If they don't start taking care of fighters yeah. Look at the big names out there that are getting older. Randy has been in wars, Chuck has been in wars. How do you think those guys will be walking 10 years from now?
PRO MMA: There has been a lot of discussion on who is the best fighter in the world. What is your opinion?
Matt: Fedor is on a whole other level. Did you see what he did to Tim? Anderson Silva is a bad man, but there are some guys that could give him trouble. Look at who Fedor has fought and beat…. Everybody!!
PRO MMA: Who do you think would give Anderson Silva problems at 185?
Matt: Cung Le. A lot of people don't know that I was a training partner for Cung Le before his fight with Frank Shamrock. Robbie Lawler even. I'm not saying they could beat him, but they could give him trouble.
PRO MMA: I know you had a huge thread over 100 pages long on Sherdog's forums. How is it interacting with MMA fans, and especially those that think they know everything MMA on the computer?
Matt: Some of them like to sit behind computer screens and talk bad about fighters. Not all of them are like that but some of them are really bad about that. Why can't I be an ambassador for the sport? I went to school for 14 years, 12 in high school, and two in college. Let me say what I have to say. Man, I try not to even get on Sherdog because to be honest with you, it hurts my feelings to read those things. It hurts my feelings that fans talk bad about Koscheck. I train with Koshcheck, and they are always talking shit about him.
PRO MMA: Good luck in your fight against Shonie on August 23rd Matt, and thanks for taking the time to talk to ProMMA It was great talking to you and we are looking forward to seeing you again in the near future. Do you have any sponsors you'd like to thank or shout outs for anybody?
Matt: Yes. Thanks to AKA, my training partners, www.ibnsports.com, and Cage Combat Fighting.
The fighter that Matt fought on the Tapout show, Adrian Hopson, was critically injured when he was shot and nearly killed on August 4th. Matt sends out his best wishes and hopes for a full recovery to Adrian, and expressed his condolences to Adrian's family and training partners, specifically Jason Reinhardt. PRO MMA wishes the same for Adrian. Our thoughts and prayers are with him and his family.