He doesn't say why or what it's all about but Tito made an a new post on the Underground today entitled, "It's On."  And here's the exact post word-for-word, "Dana is going to get a SLAP!!! This weekend. I will be front row and walk up and slap him! just watch when I get kick out, you will know why. THIS WEEKEND!!!!!!!!!!!!!!!! Dana is my BITCH!!!!"
I thought Tito was done with Dana forever but evidently Dana can still get under Tito's skin even though he's apparantly no longer fighting in the UFC.  My first question would be, how the hell is Tito going to get into the TUF Finale event on tommorrow (Saturday) night, June 21st?  If Tito has done anything here, he's made more people tune in now to see if he really is gonna slap Dana.  Nice Tito; if you really want to hurt Dana, causing him to get more vieweres probably isn't the best way to get back at him.
Dana did make an appearance on the Opie and Anthony Radio Show a couple of days ago (which we talked about and you can listen to HERE) and had a few choice words to say about Tito.  But it wasn't anything new.  It's the same stuff he always says about him.  I don't even think Dana bagged on Jenna in the interview.  However, that's the only recent thing I know of that could've set Tito off.  Unfortunately, Tito doesn't really give us any insight what prompted this forum post and he hasn't responded to any of the other forum members' comments and as you can probably imagine there are some real doozies.  If you have a few minutes to kill, read the people's responses to Tito.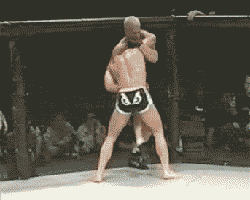 Here's a little Tito tribute GIF