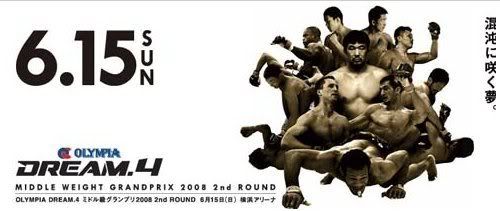 With all the talk of recent and upcoming UFC events, and the blockbuster Fedor vs. Sylvia matchup with Affliction, it's easy to overlook the upcoming middleweight grand prix this Sunday live from Japan that is Dream 4.  The card has some very interesting matchups and is sure to be an exciting yet long night of MMA action.  The last Dream event started at 4 A.M. Eastern live and was scheduled for five hours.  This one starts live at the same time, and die hard fans across the country will be tuning in on HDNet and chatting online during and after the fights.  If you don't have HDNet join us at TAGGRADIO.com in the combat chat.  Rest assured the hardcores will be in the house!
One of the more interesting matchups for the casual and hardcore fans alike is Jason "Mayhem" Miller vs.  Ronaldo "Jacare" Souza.  The "Mayhem Monkeys"  (myself included) will be in full effect as Miller will be battling a legend and world champion in Jiu Jitsu known simply as "Jacare".  Mayhem is well known for his antics inside and outside the ring, and has taken his ring entrances to an all new level.  Outside of his crazy and wild behavior, Miller is a very well rounded fighter with a lot of experience in MMA.  He will be the more experienced figher coming in against Jacare, but Jacare's credentials on the ground are otherwordly.  He is one of the best BJJ competitors on the planet, and has won his last 8 fights since losing his MMA debut, and all 8 have been finished by submission.
In another interesting matchup Japanese MMA legend Sakuraba is matched up against the very strong kickboxer Melvin Manhoef.  Many people I talk to are leaning towards a submission victory by the proven warrior Sakuraba as Manhoef is susceptible to submissions.  If the fight stays on the feet Manhoef is a ver dangerous striker, and this fight will likely be a straight up war!  Never count out the ageless Sakuraba, as his experience and fight IQ gives him a chance against any competitor.
On the lightweight front, Aoki will be back in action against Nagata for the rights to advance to the lightweight semifinals.  Aoki, known as one of the best lightweights in the world, should have no problems with the lesser experienced Nagata.  However, this is MMA and anything can happen.
Mirko Cro Cop was supposed to return to action in this Dream fight card but withdrew due to an elbow injury.  Many people including myself were looking forward to seeing Cro Cop back in a ring following his disappointing performances in the UFC's Octagon.
Tune in live at 4 A.M. Sunday June 15th on HDNet.