by:  Jack Bratcher
I had the pleasure of attending Froggy's Fight Night this evening for the QUEST SSF 3 event.  Froggy's has a nice intimate atmosphere.  It's a sports bar type place on the Ft. Campbell Army Base in southern Kentucky.  I would estimate about 700 people were in attendance.  They have these Fight Night's about once every six weeks.  This particular event was promoted by SSF (Scientific Street Fighting) which has local MMA schools located in Clarksville, TN and Murray, KY.   The promoter's name from SSF is Ron Dayley who was extremely cordial and friendly.  I'm telling you right now, if you live in the middle Tennessee / southern Kentucky area, and you're a fan of MMA, you have to check this show out.  You will be impressed.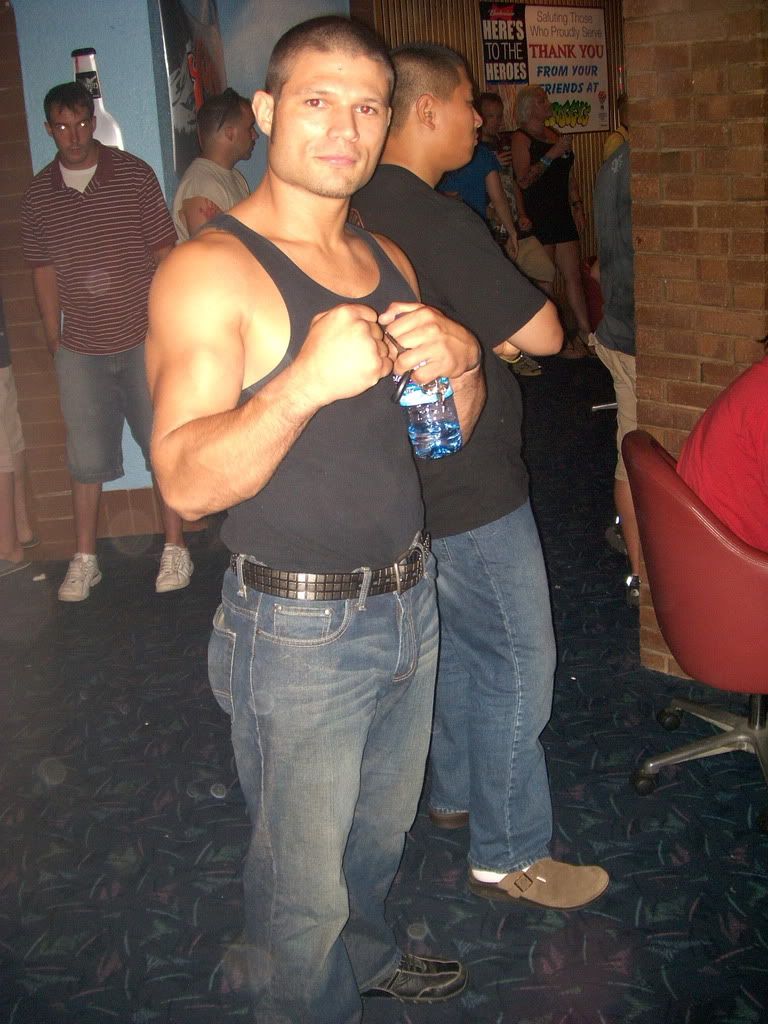 Dan Barrera from The Ultimate Fighter season 6 was the Special Guest Announcer.  I got a chance to speak with Dan and found out some pretty cool information.  Mr. Barrera has moved into the Clarksville / Ft. Campbell area and will be teaching at SSF.  It's pretty cool that they now have their very own TUF alumni living and teaching right here in the local area.  That's great news for the academy and I'm sure Dan's presence will help draw in new students.  Dan was very friendly.  He's still a firefighter and said it's in his blood and he will be doing that forever.  He also said he believes the UFC will probably be having an event in Tennessee in the not too distant future and he hopes to be on that card.  Dan talked about the fact that he still has boxing aspirations as well as MMA.
There were some great bouts and I will try and post the full roster of fighters and who won tomorrow but I wanted to give you a taste of what went on tonight.
UFC 65 veteran, Josh Shockman, who was representing Ed Clay's Nashville MMA and Team Gameness,  fought in the main event against Nick Brown.  Shockman came out and stood toe to toe with Brown.  They exchanged punches however, Shockman's leg kicks seemed to be the deciding factor.   As the second round began, Shockman landed a devastating kick to the back of the thigh that buckled Brown's leg making it easy for Shockman to take him down.  Seconds later the referee  intervened as Brown could no longer defend himself.  He had to be helped to his feet and out of the ring.  He was in pain.
I have to mention one other fight in particular tonight and that was Earl Medley vs. Patrick Schuele.  Earl Medley picks up my man and throws a beautiful suplex on him then makes the immediate transition to armbar and Schuele is forced to tap or have it snap.  Watch and see for yourself.  Don't blink.
Check back tomorrow for more pictures, video, and fight results from Froggy's Fight Night – Quest SSF 3.