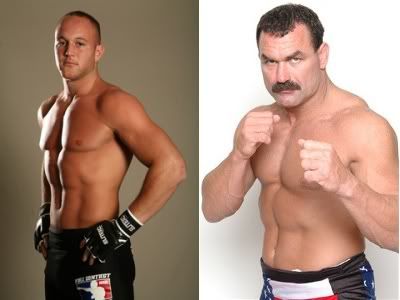 PRO MMA (promma.info) has learned from sources close to the bout that heavyweight prospect Dave "Pee Wee" Herman will be taking on MMA legend Don "The Predator" Frye at "Shark Fights 6" tentatively scheduled for Sept. 12 at the Amarillo Civic Center in Amarillo, Texas.
Herman's last bout was a first round TKO over Josh Barnes at Bellator 4 back in May. Although Herman is still under contract with Bellator, they have postponed their second season until Jan. 2010. Herman is considered somewhat of an MMA oddity, having fought much of his career with virtually no formal training.
Herman currently holds a 14-1 record. With 11 (T)KO's and 3 submissions, he has finished all of his opponents aside from his lone loss which came against Mu Bae Choi last January at "Sengoku – No Ran 2009."

Following the loss, Herman then finally decided to seek out proper MMA training, and ended up at Nashville MMA under the tutelage of Ed Clay; he won his very next bout.
Real MMA training or not, Herman will have his hands full at "Shark Fights 6" when he faces Don Frye (20-7-1). That is of course if Frye does not back out. He recently backed out of an M-1 Global fight with "King Mo" because he allegedly did not like the location of the event.
Between movie roles and rubbing elbows with the stars, Frye now 43-years-old,  has still found the time to get in the cage at least a couple of times a year since 1996 (except a two-year break from 1998-2000) when he had his first professional fight at UFC 8. In fact, he fought three times in one night at "UFC 8: David vs. Goliath," finishing every opponent and winning the tournament.
Stay tuned to PRO MMA (promma.info) as a "Shark Fights 6" press announcements is expected to be released shortly.
By:  Jack Bratcher