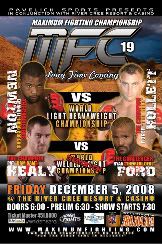 By Denny "The Mad One" Hodge
The MFC will be back in action on HDNet Friday December 5th from the River Cree Resort and Casino. The exciting organization that has had 12 consecutive sold out shows will be featuring their Light Heavyweight Champion Roger "The Hulk" Hollett and a late edition to the card with a highly anticipated bout between John "The Natural" Alessio and Paul "Semtex" Daley.
At 8-1, Hollett is dangerous on his feet, but is equally comfortable if the fight hits the ground.  Despite three KO's in his MFC appearances, he also has five submissions to his credit, making him a threat wherever the fight may go.  He will be looking to make a statement in his comeback fight, defending his belt against top contender Emmanuel Newton.

The original card was to feature a second title fight in the exciting 170 lb. division with a rematch between Pat Healy and Ryan Ford.  A training injury to Ryan's knee has sidelined him for this week's bout.
The first fight had plenty of fireworks as Healy battled a very heavy handed Ford, surviving furious ground and pound, with a side order of sharp elbows, submitting Ford via armbar in the third round.  Their rematch has tentatively been set for February 20th 2009.
The MFC did an outstanding job filling that void, adding a super fight between John Alessio, who has been on fire as of late winning 5 of his last 6, against the outstanding UK KO artist Paul Daley.  Daley is coming off a submission loss to Welterweight Champion Jake Shields from their title fight in the now defunct EliteXC.
Here is what the rest of the card looks like:  
Main Event – MFC World Light Heavyweight Title (5 Rounds)
Emanuel Newton                vs.                Roger Hollett
Main Card
Paul Daley                    vs.                John Alessio
Ariel Sexton                    vs.                Derrick Noble
Joey Gorczynski            vs.                Kyle Sanford
Kyle Dietz                    vs.                Mike Bruno
Mike Sorensen                    vs.                Ryan Machan
Undercard
Aron Lofton                    vs.                Jason Kuchera
Colby Snyder                    vs.                Josh Russell
Alain Hernandez                    vs.            Gavin Neil
Elliot Duff                        vs.            Ryan McGillivray
Nolan Clark                        vs.            Jesse Clarke