by: Jack Bratcher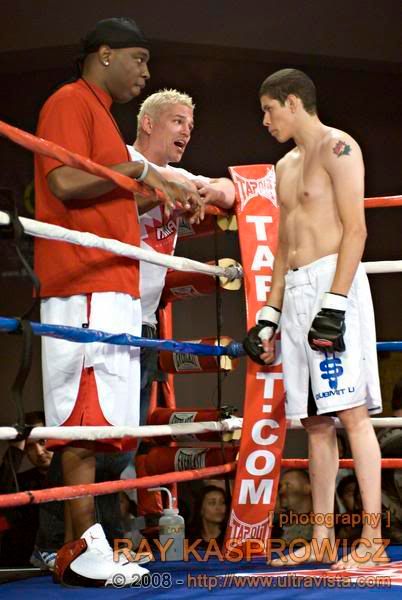 The Xtreme Couture gym located in Las Vegas is famous for having one of the best MMA training facilities in the world.  Not only do they have the highest quality training equipment money can buy, but the gym is bursting at the seams with the best instructors and sparring partners the sport has to offer.
On August 8, 2008 , Tuff-N-Uff, a Las Vegas-based MMA promotion held an event at the Orleans Hotel and Casino entitled, "The Future Stars of MMA," which showcased amateur MMA talent from some of the hottest up-and-comers the sport has to offer.  One of these young upstarts is a gentleman by the name of Jimmy Jones.  Jimmy lives in Vegas and is fortunate enough to be part of the Xtreme Couture family.  PRO MMA was fortunate enough to catch up with Jimmy to find out how the Tuff-N-Uff show went and also what it's like learning the ropes and paying your dues at what many consider the most-respected MMA gyms in the world.
PRO MMA: Hiya doing Jimmy. Thanks for taking the time to speak with us. So you were fighting at TUFF-N-UFF at the Orleans Hotel and Casino in Vegas this past week how did your fight turn out?
Jimmy: Hey guys, thanks for having me. This weekend was awesome at the Orleans here in town. Everyone at Tuff-N-Uff really knows how to put on a great show for the fans and never disappoint. Unfortunately, I lost my fight to a really tough guy but had a great time nonetheless.
PRO MMA: It happens to the best of us. Can you tell us how it went down?
Jimmy: Well the guy I fought, I figure that he was a jiu-jitsu guy being that he was fighting out of Team Micca, so I worked a lot on submission defense along with stuffing the takedown prior to the fight. I felt pretty confident heading into the first round; I started off with some short stiff jabs just to feel him him out but he caught me off guard with a quick shot that I wasn't prepared for. I was really impressed with the way he was able to pass my guard with ease and before I knew it he had my back. I kept my composure pretty well and with about 10 seconds left I turned into his guard and finished with some light ground and pound. I knew I had to look out for another quick shot in the second round so I did my best to keep my distance. I threw a couple of nice head kicks along with some powerful punch combos and finished the round off with a reverse triangle that I just couldn't finish. I think that Marco (my opponent) and I were pretty tired come the beginning of the third round but the crowd was so pumped that we had to give it all we had. He landed some solid shots on the ground and ended up winning the fight by judges decision. Marco was a super tough guy and I want to give him a lot of credit, I know that was his first fight and I'm sure he'll be cracking some skulls in the near future. But one day, I definitely would like a rematch sometime! I'm sure the fans would too.
PRO MMA: Why do the call you "Jimmy the Rabbit?"
Jimmy: I got the name "Rabbit" from my first Muay Thai trainer, Cade Anderson. Unfortunaley, he's not at the gym anymore but he tought me a lot and my stand up really improved after his help. When he started to train me he would demonstrate "relaxing" by bouncing back and forth on the balls of his feet while punching and kicking. For some reason I did the same thing when I sparred and trained and never shook the habit, thus the "Rabbit" was born.
PRO MMA: How long have you been training MMA and how long have you been at Xtreme Couture and what is it like over there?
Jimmy: I have been training MMA since January of 2007. I love it over at Couture's, I get to see and meet some of the coolest guys everyday. The equipment we use is great and all of the trainers are always there to help with anything we need. It's full of a bunch of funny guys too, the gym is always good for a laugh
PRO MMA: Where are you originally from and how long have you lived in Vegas? How did you end up in Vegas and how did you end up at Xtreme Couture?
Jimmy: I was originally born in San Antonio, TX. I moved all over when I was a kid because my mom's ex husband was in the military. We wound up in Las Vegas some time in the early 90s and I have been here pretty much ever since. As for the gym, I heard an ad on the radio that Randy Couture was opneing a gym here in town called "Xtreme Couture." Randy has always been my favorite fighter so I told a friend of mine that he would be there signing pictures and stuff so we decided to go check it out. Before we knew it we were signed up.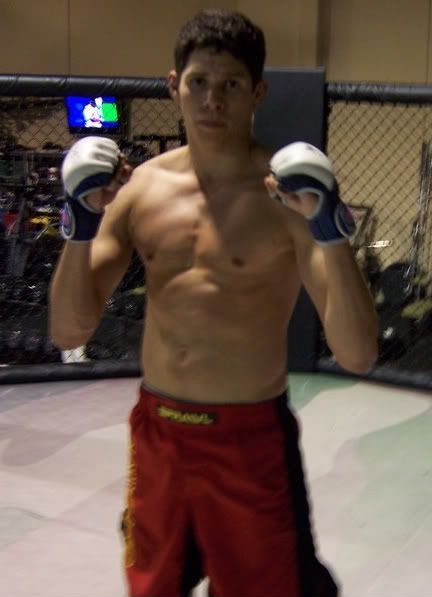 PRO MMA: Frank Trigg is a good friend of PRO MMA so you can tell us the truth, you ever see Trigg around the gym over there at Couture's and what's the general consensus on Twinkle Toes there? You ever got to spar with Trigg?
Jimmy: Trigg is one of the funniest guys you will meet. I don't know him too well being a rookie and all but he is always way cool to everyone around. Let's just say that if Trigg is in the gym, you will definitely know it! And I think that I would be a little too scared to spar with the guy, he is a beast and I'm afraid to look directly into his eyes.
PRO MMA: That's funny. Who are some of the real bad asses over there at Couture's that you get a chance to roll or spar with?
Jimmy: Jay Heiron and Mike Pyle are a couple of the pros that I have gotten to roll with a few times. Those are two dudes that I would not like to run into in a dark alley for sure. When you talk about badasses, those are the guys, unless they are making you laugh!
PRO MMA: How many amateur fights have you had Jimmy? Have you figured out yet if this fighting thing is something you want to make a career of? Where do you go from here and what are your plans for the future? Do you have any other fights lined up as of now?
Jimmy: My fight this past Friday was my 2nd amateur fight. I've lost both of them and that sucks but there isn't anything else I'd rather do. I have a ton to learn still and all the exprience I can get the better. Just like everyone else, I'm sure I would hate working a "regular" job. I'd love to make a career out of MMA, but only time and training will tell. As far as heart goes, I've got plenty of that. I'm going to keep training my ass off and keep working out the kinks. Hopefully I fight again in September at Planet Hollywood for the MMA Xplosion promotion.
You can visit Jimmy Jones at his MySpace page and keep up with what's going on with  Xteme Couture and their fighters on the Xtreme Couture Blog.