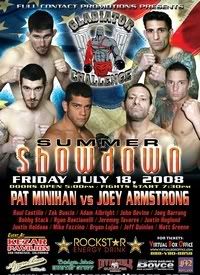 What a time to be an MMA fan. This past weekend had more exciting bouts and finishes than any other in recent memory. The Affliction and Ultimate Fight Night events both ended in short and spectacular fashion, with the favored fighter coming out on top. This was also true of the Gladiator Challenge this past Friday night, with one exception. Kurt Osiander was the favorite going into his fight against Nate Moore. Moore however, proved his place as an exciting up and comer with a six second knock out of Osiander in front of 3,000 screaming fans at the Kezar Pavilion in San Francisco.
The evening started with Roseville's Larry Mays against Will Davis. Mays controlled the fight from the opening bell, peppering Davis in the standup for the first two rounds. Between rounds 2 and 3, Davis had decided he had enough and did not answer the bell for the final round giving Mays the victory. Look for Mays as he has another fight on the Gladiator Challenge Roughnecks card on August 13th. This card is headlined by PRO MMA favorite Dan Quinn.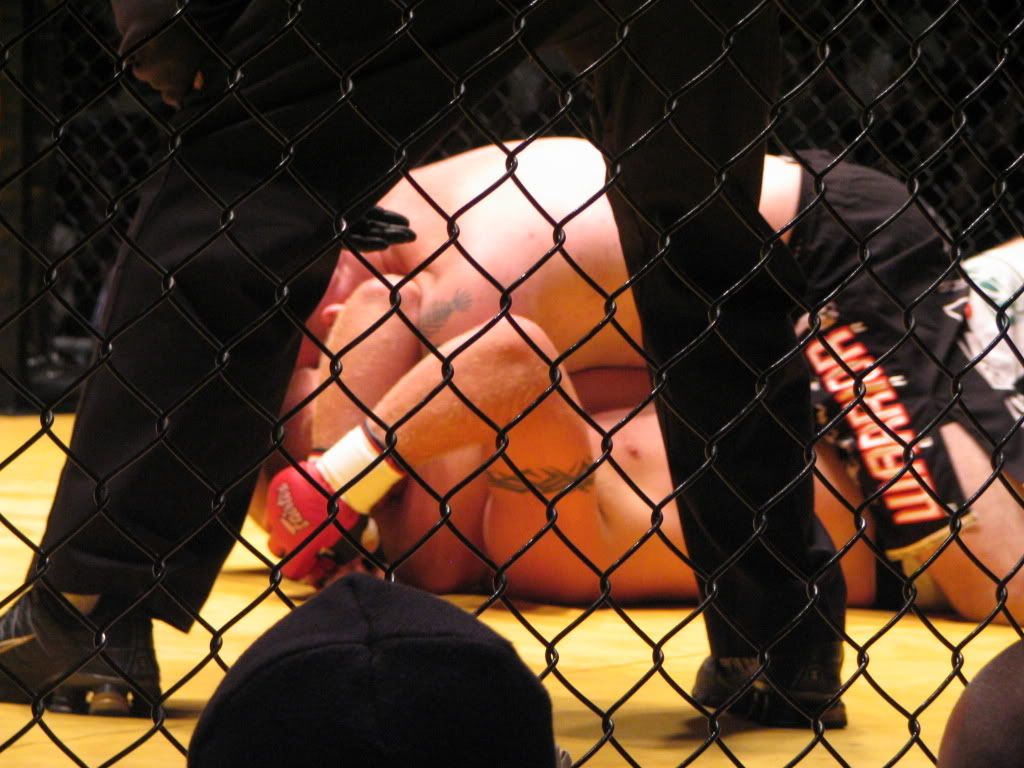 Remember this name – John Devine. Devine is a true heavyweight (6'4" 260 pounds) with great jiu-jitsu technique. Devine controlled Richard Blake with a huge double leg slam in the opening minute. The grappling clinic was on, as Devine passed Blake's guard, took mount, and secured an arm triangle choke that nearly ended the fight. To Blake's credit he was able to escape the choke and reverse Devine to his guard as round one came to a close. The second round was more of the same. Devine took Blake down, mounted, and then let loose with a vicious barrage of ground and pound that left the referee no choice but to stop the bout at 1:41 seconds. Following the fight, I was able to catch up with Devine for a video interview. Devine was extremely humble and gracious in victory. He credited his solid grappling skills to the new association his academy now shares with Saulo Ribiero (Diego Sanchez's Jiu-Jitsu coach).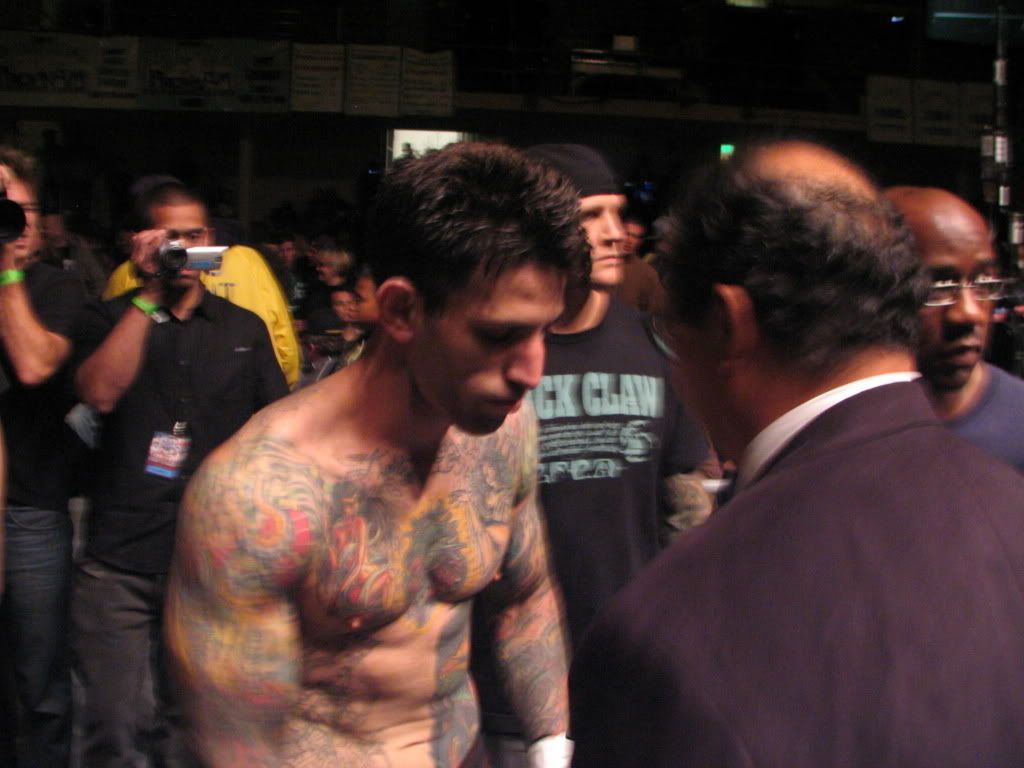 Joey Armstrong was up next against AKA's Wayne Phillips. The star power was out in force in this fight as Armstrong was cornered by Ralph Gracie, Luke Stewart and James Cook. Not to be outdone, Phillips brought Jon Fitch, Bob Cook, Dave Camarillo, and Pat Minihan with him to the cage. In my opinion, this was to be the best fight of the evening. Armstrong was taken down early in round one and spent the majority of the round defending against Phillips' ground and pound and attempts to pass his guard. The fireworks kicked off as the bell for the second round rang. Phillips came out with a huge head kick that grazed the top of Armstrong's head. Armstrong then retaliated with a strong kick to the liver and an over hand right to the head. The two continued to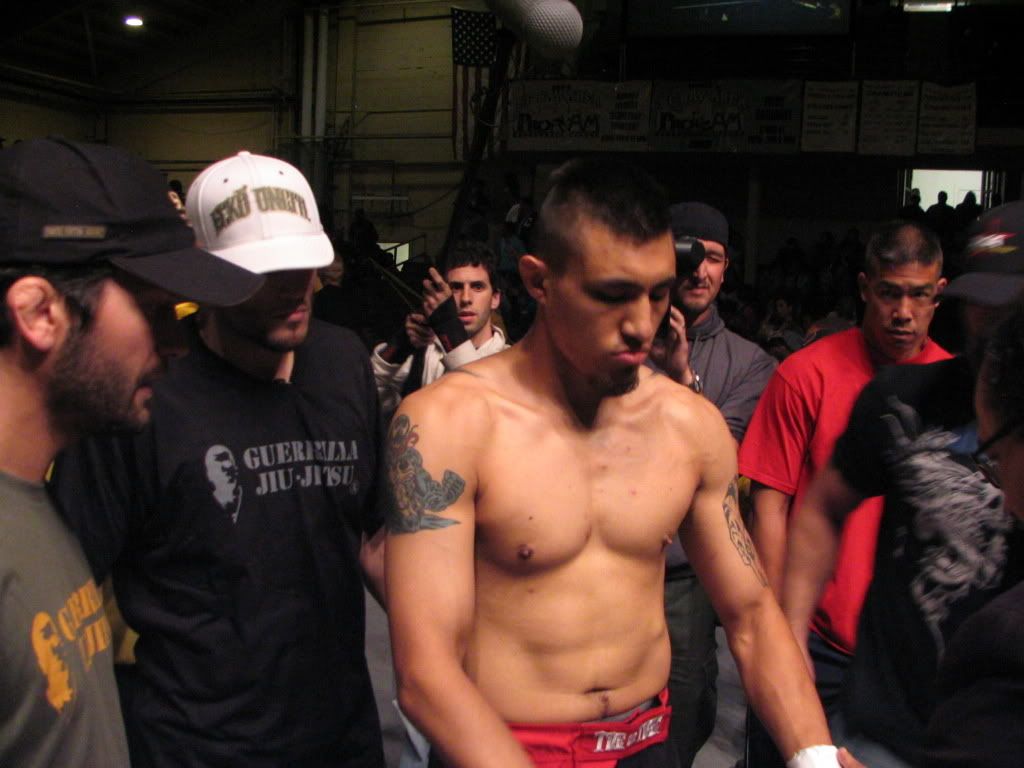 exchange strikes for the duration of the second round with Armstrong scoring first most of the time. With the crowd beginning to express their support for Armstrong, Joey again connected with an uppercut that stunned Phillips momentarily to close out round two. Round three saw more of the same exciting exchanges as Phillips became gassed. Armstrong capitalized on his opponent being tired and nailed several crisp combinations cutting Phillips above his right eye. Armstrong landed a solid knee to the stomach of Phillips as the third round drew to a close. The fight end with Joey Armstrong taking a hard earned and well deserved decision victory.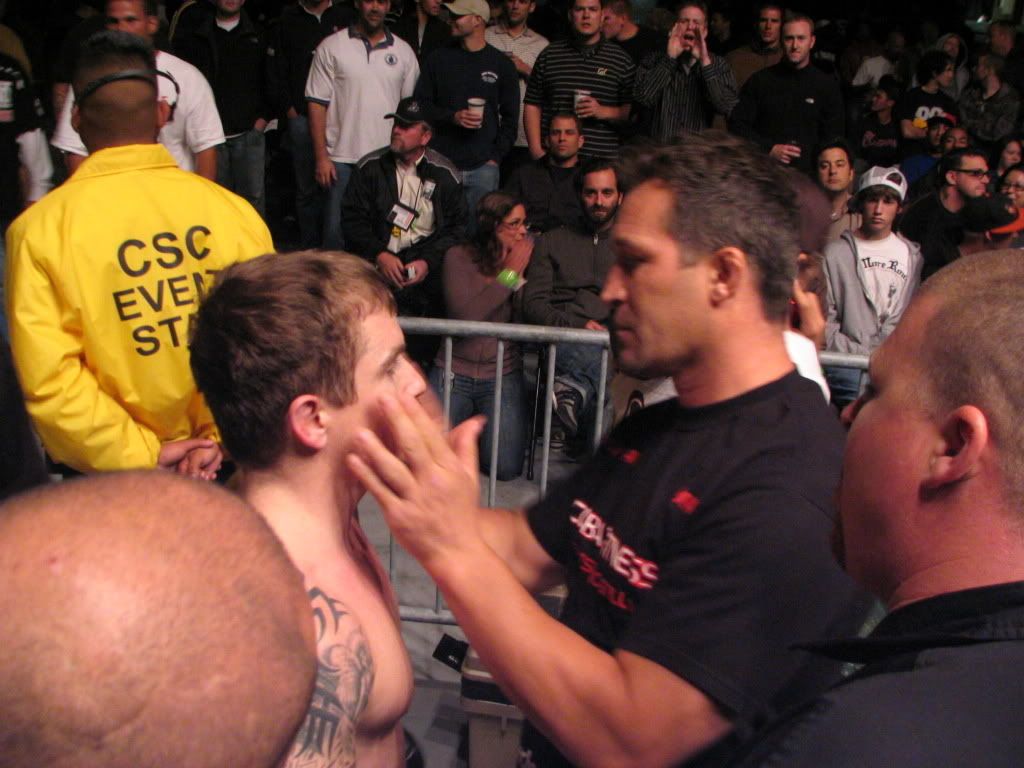 Another fighter with a large local following was Ryan Bastianelli. Ryan trains under former UFC fighter Gil Castillo and it showed. Bastianelli used a combination of power takedowns, including a beautiful hip toss from the clinch. He also used his strong boxing game to overwhelm Gigo Jara which led to a unanimous decision victory. In only his second pro fight, Bastianelli showed composure beyond his experience and reminds me of a young Tyson Griffin or Uriah Faber. The hardest part of the night for Ryan came later, as we spotted him walking around the cage looking for his shoes!
In a fight that was billed as ultra competitive, Raul Castillo had little difficulty in dismantling Josh Neal en-route to 96 second stoppage. Castillo came out, slammed Neal to the ground, mounted him and began an onslaught that forced the ref to halt the bout. Castillo's excitement poured out after this victory as he ran around the cage screaming.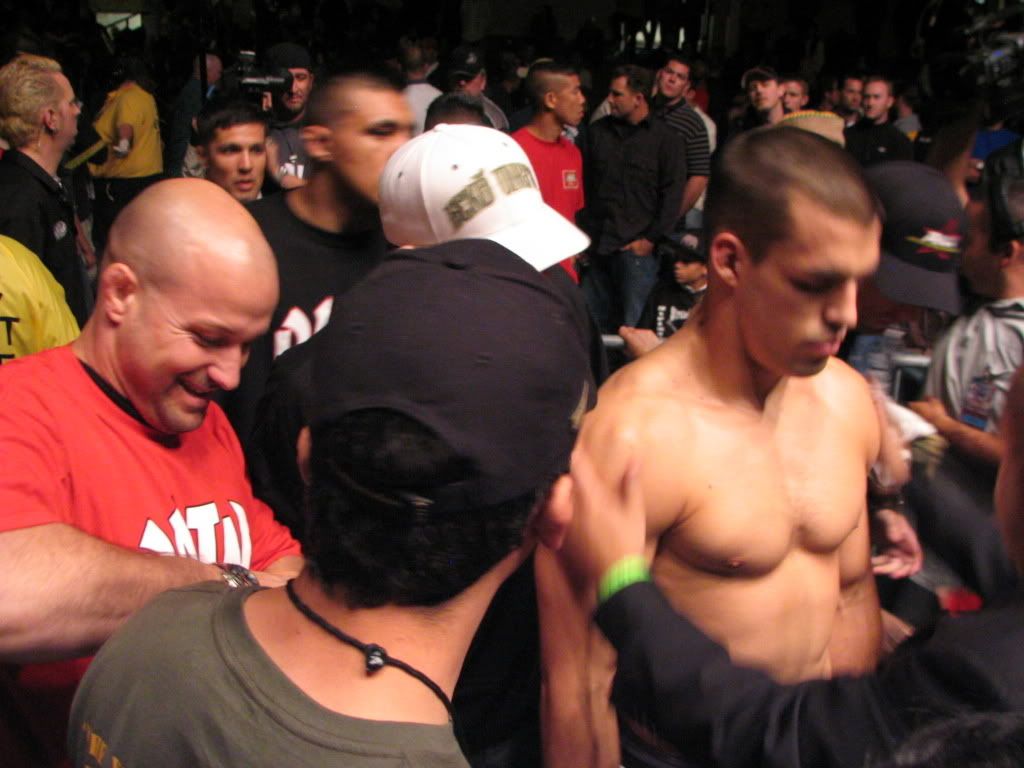 The main event of Kurt Osiander against Nate Moore seemed anti-climactic as it ended as fast as it began. Osiander was flanked by Ralph, Luke Stewart and the rest of team Gracie as he approached the cage. Moore was cornered by Fitch Minihan, Camarillo, and team AKA. Receiving last minute instruction by his mentor Ralph Gracie, Osiander had a look of focus that led everyone in attendance to believe that this fight would be a long drawn out war. Unfortunately, this did not come to fruition as the two fighters touched gloves and began to circle. The first strike thrown was with devastating power as Moore connected on the chin of Osiander sending him to the canvas. Moore followed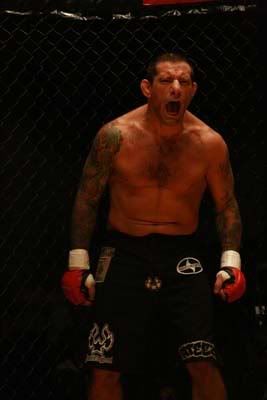 him to the mat but the referee alertly jumped in and stopped the bout as Kurt was unconscious. Stunned by the sudden ending of the main event, the crowd was silent for a split second, and then released a large wave of boos. Moore walked away the victor six seconds in. Look for a match between Nate Moore and Raul Castillo on a future Gladiator Challenge event.
Zak Bucia, Gabriel Solorio, Matt Greene, and Mike Fazzino were also victorious in their respective matches. All in all, the card was action packed with everything from submissions, KO's, and back and forth battles. Tedd Williams, Jeff Cairns, Tracy Farrington and the rest of the Gladiator Challenge team put on a very professional show with some great up and coming fighters. I look forward to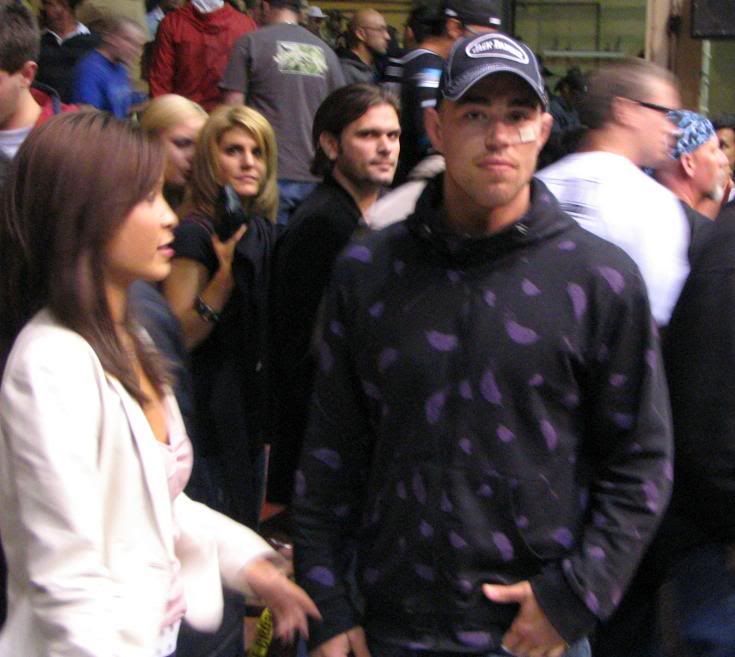 seeing the next offering of Gladiator Challenge and what they have in store. Stay tuned for some video interviews with Larry Mays, John Devine, Joey Armstrong, Wayne Phillips and Elite XC fighter, Jake Shields who was also in attendance.
I hope to have a future Lesson in Humility with Shields in the coming weeks so keep an eye out for that as well.
I would like to send a special thanks to Kim Kasper for all her help throughout the night as my photographer and assistant.  I couldn't have done it without you Kim, thanks!