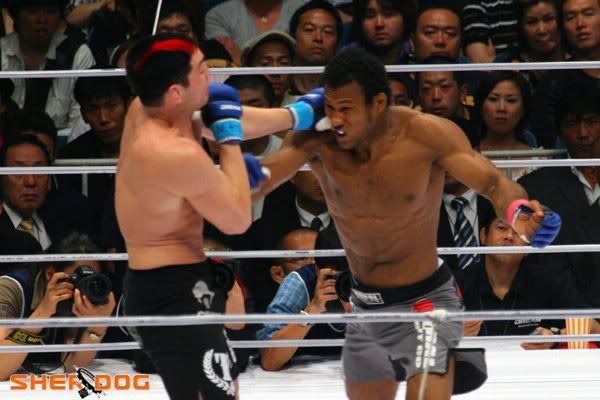 By Denny Hodge
Shinya Aoki over Katsuhiko Nagata- submission- gogoplata — Round 1
Alistair Overeem def. Tae Hyun Lee via KO — Round 1
Ralek Gracie over Alavutdin Gadzhiyev- submission-arm bar — Round 1
Hideo Tokoro def. Darren Uyenoyama- unanimous decision
Gegard Mousasi over Dong Sik Yoon-  unanimous decision
Zelg Galesic def. Taiei Kin- TKO- doctor's stoppage — Round 1
Ronaldo "Jacare" Souza def. Jason "Mayhem" Miller- unanimous decision
Melvin Manhoef def. Kazushi Sakuraba -TKO- strikes — Round 1
AOKI VS. NAGATA
Aoki was the clear favorite going into this fight and watching the fight it was easy to see why.  Sporting his signature tights with multiple flourescent colors, Aoki came and secured a takedown which Nagata recovered from and worked back to standing.  It was the beginning of the end for Nagata though as Aoki once again got the takedown and within seconds was in a dominating mount position patiently waiting for his opportunity to finish the fight.  Aoki worked his way high in the mount and sliding his right ankle across Nagata's neck, finished him with an amazing gogoplata.  Nagata tapped pretty quickly thus making the way for Aoki to advance in the lightweight grand prix.
TAE HYUN LEE VS. ALISTAIR OVEREEM
As expected this fight didn't last too long.  Overeem came out throwing jabs and a few leg kicks.  He followed up with a big left hand, then a right and Lee was on his way out.  For good measure Overeem followed up with some knees but by that time it was academic.  1st Round Knock out.  Overeem also took some time to call out the absent "Cro Cop" before leaving the ring.
ALAVUTDIN GADZHIYEV VS. RALEK GRACIE
At first I thought Gracie may be in trouble in this one.  He was standing about 10 feet away from Gadzhiyev and I was wondering how in the hell he would get this fight to the ground.  He started throwing some front kicks that looked pretty bad in my opinion and looked really uncomfortable on his feet.  Finally, Gracie secured a body lock and proceeded to trip, and got the fight back to the ground.  Gracie advanced his position to mount quickly and it was the beginning of the end for Gadzhiyev.  Gracie pivoted, stepped over and secured a pretty nasty arm bar which Gadzhiyev taps to.
As he tapped and Gracie let go of the sub, Gadzhiyev actually reversed position and tried to keep fighting as if he hadn't tapped.  The ref clearly had called the fight and declared Gracie the winner by arm bar.
HIDEO TOKORO VS. DARREN UYENOYAMA
This fight was one of the best fights of the night in my opinion.  It was amazingly technical and the young Darren Uyenoyama earned a lot of respect from the crowd as he faced a much more experienced Tokoro.  The fighters engaged with Darren throwing kicks that Tokoro was blocking pretty well.  As the fighters got closer, Tokoro snapped a huge knee that looked like dropped Uyenoyama for good.  Tokoro followed him to the ground and tried several subs.  Amazingly Uyenoyama popped up and shook off the big shot immediately.  The ground game between these two was amazing.  Tokoro showed brilliant technique by transitioning from sub attempt to sub attempt.  Uyenoyama was just as technical defending the myriad attempts from Tokoro.  In the end Tokoro took the UD but I came away very impressed with this Uyenoyama kid.  He has an amazing future.
During the intermission, the lightweights entered the ring to draw for their Semi-Final match ups for Dream 5.
Here are the match ups:
Eddie Alvarez vs. Tatsuya Kawajiri
Shinya Aoki vs. Caol Uno 
GEGARD MOUSASI VS. DONG SIK YOON
Mousasi and Yoon tied up  several times and Mousasi landed several hard knees to the legs of Yoon.  Multiple times Mousasi went for takedowns with Yoon holding on to the ropes.  Yoon was warned, and the fight continued  with Mousasi landing brutal leg kicks on Yoon.  Near the end of the first round, the fight hit the ground and Yoon actually got Mousasi's back, after the scramble, Yoon found himself in a great position to isolate Mousasi's arm and end the fight.  He fought to secure the arm bar and actually had it extended but was loose, and Mousasi rolled out and the fight headed for the second round.  In the second the action continued with Mousasi finally getting a dominant position and landing a bunch of unanswered shots.  The ref let the fight go despite Yoon not doing anything to answer.  Mousasi earned the UD decision win over Yoon.
ZELG GALESIC VS. TAIEI KIN
In a crazy ending to this fight, both fighters clinced looking for a takedown.  The ref stepped in to break the clinch, and shortly after Galesic scored a takedown, and while going down Kin tried to brace his fall tearing his arm up in gruesome fashion.  Doctor stoppage for a win for Galesic.
JASON "MAYHEM" MILLER VS. RONALDO "JACARE" SOUZA
Souza came out strong and worked the clinch immediately not giving Mayhem the room to throw any big shots on his feet.  They both scrambled and the fight hit the ground, but Mayhem quickly got the fight back to standing.  Souza secured a takedown with a trip and started to work his ground game.
Souza being the master he is quickly passed Mayhem's 1/2 guard and moved to mount afterward.  Miller looked really calm during the storm and actually swept Jacare from mount.  Jacare then worked for a heel hook and for a second I thought Mayhem was in trouble.  In true Mayhem fashion he smiled at the crowd and gave a big thumbs up.  Mayhem defended really good against the world class Jacare and even pulled out of a triangle that Jacare had set up beautifully.  Mayhem even defended a RNC with Jacare having a body triangle locked in.  Unfortunately for Miller, he was scrambling almost the entire fight and never really had a chance to stand and bang with Jacare.  Excellent display of BJJ and ground game full of sub attempts and equally exciting escapes and defenses.  Jacare by decision.
KAZUSHI SAKURABA VS. MELVIN MANHOEF
Sakuraba himself stated he was wary of this face off with the powerful Manhoef.  The MMA legend has been through many and battles and wars and suffered tremendous beatings and legendary matches.  This one was not one of them.  Manhoef came out and landed a big kick on the 38 year old MMA icon, and followed with a straight punch that dropped Sakuraba.  Manhoef drags him off the ropes and continues to pulverize Sakuraba.  It may the end of Sakuraba following this beatdown.  Manhoef by strikes – TKO.
As it stands the middleweight grand prix should to continue to be exciting, and a Jacare vs. Manhoef matchup could be in the future, in a true contrast of styles.  As for the lightweights, the semi's should be amazing and don't be surprised if the American Eddie Alvarez doesn't step up and win the whole thing.  In the mean time we'll be waiting for Dream 5.