By Denny "The Mad One" Hodge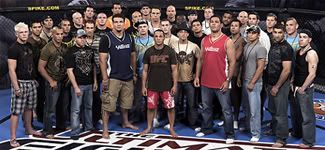 After suffering withdrawel due to there being no show last Wednesday, we get our fix tonight with back to back episodes featuring 4 semi-final bouts at Light Heavyweight and Lightweight that will determine who fights under the big lights for all the marbles on the Ultimate Finale.
The show wastes no time getting to the action with Eliot Marshall from Team Mir and Ryan Bader from Team Nogueira hitting the scales and making weight with no problems.

Both coaches and each fighter think that they have the edge, with Dana chipping in that "Eliot has slick submissions, and I think Eliot has got a good shot at pulling out a submission in this fight."
We are treated to a training session with Bader and Nogueira going head to head, with Bader getting a nice takedown  on his coach, along with some good exchanges between the two.  
Eliot admits that Bader will be a "difficult challenge" for him and that he is probably the favorite to win the show. Eliot enlightens us on the differences between wrestling and jiu jitsu as a philosophy and admits to being an underdog.
With a touch of the gloves, we are under way.  Bader lands a nice kick followed by a hard right hand, and at least for now, seems to be content on standing.  Eliot counters with a nice high kick, and shortly after, catches Bader with a shot to the jewels.  
After a pause in the action, Bader starts moving forward and is still using leg kicks effectively.  Ryan seems to be loosening up and is starting to throw overhand rights.  Mir is screaming for "3 shots", urging Eliot to use combinations of 3's .
After a kick to the body, Bader catches Eliot's leg and uses it for his first takedown of the fight.  Bader proceeds to push Eliot against the cage and establishes a dominant base.
The ref is calling for action, but Bader is not doing much from the top at this point, other than the occasional shots to the body.  Bader postures and lands a couple of shots, but Eliot is keeping his composure from the bottom.  The round ends in much the same manner.  Round 1 looks like it will go to Bader.
Eliot starts round 2 with a kick that is caught again by Bader and the fight is back on the ground.  More of the same with Ryan putting Eliot on the cage again.  Eliot is trying to use the cage to spin away, but Bader is maintaining a strong top position.
Mir is yelling to Rosenthal that there is no action and that Ryan isn't doing anything.  The referee agrees and calls for action again.  Bader is resorting to some LNP at this point.  
Eliot sees a little space and tries to free his hips by shrimping, but Bader keeps him pinned down until Rosenthal stands them back up.
Eliot throws a straight right, but Bader wastes no time shooting a double and taking Marshall right back down to the mat again.
More of the same with Ryan back on top and less than a minute to go in round 2.  Bader rarely postures up in the last minute and really doesn't land anything significant, but did enough to earn round 2 as well.
The semi's are 3 round fights, so Eliot has one more round to take a stand and earn a spot in the finals.
After an eyeful of Arianny, it's back to the fight.  Bader throws a lazy kick that Eliot catches, and Ryan quickly shoots in for another takedown.  Once again the fight is back to Bader on top with Eliot pushed against the fence.
Bader looks to pass guard, and Eliot looks for a leg and a possible submission, which is thwarted by Bader grabbing the cage.  Ryan quickly regains top position in Eliot's closed guard, but the referee stands them back up quickly.
It doesn't stay that way long as Bader sets up yet another takedown with a punch.  Eliot is looking for a kimura as Ryan leaves his right hand on the mat, but goes for a sweep instead resulting in Bader being right back on top of him against the cage again.
Mir is yelling for a stand up again as Bader is just laying on Marshall at this point.  They are stood up again, and both fighters appear to be fatigued at this point in the fight.
Eliot throws a kick resulting in Ryan once again putting him on his back.  Not much action to the bell, and it looks like Bader won this fight convincingly.
Bader is announced the winner with a unanimous 30-27 from all of the judges, and will be at the Ultimate Finale repping the Light Heavies.
The lightweights hit the scales with Roop vs. Nover coming up next.  Mir believes Roop can beat Nover,  but Dana believes that it will be a "tough fight" for Roop.  Big Nog comments that Nover is dominant and that Roop is in trouble.  I agree, and the consensus is with most fans of the show that Nover is the favorite to win the whole show.
Nover admits that he is concerned about Roop's length and height, and adds that being the favorite adds additional pressure to himself.  He predicts a submission victory over George.
Roop lets us know that he is ready mentally, but physically his hand is an issue, but that his face just looks worse than it really is.  Mir thinks that the hand injury will make him fighter harder.  Mir adds that Roop "is a warrior in every aspect of the word".
Similar to Eliot, Roop admits to being the underdog in this fight, while Nover tells us that he is "animalistic" in his approach.  
Nover starts fast with two big rights coming forward, forcing Roop backward.  Nover takes Roop to the mat landing in half guard.  
Roop uses the cage to push off and sweep Nover, and immediately Nover secures Roop's left arm.  Nover locks up his guard, all the while maintaining control of Roop's arm and looking for the kimura.  
Roop tries to roll, and ends up inverted with his arm bent behind his back.  Nover secures the kimura, and George taps within seconds.
The win is very impressive, with Dana saying, "this kid is one of the most talented kids I've seen on the ultimate fighter, ever".
The second episode is up next and will determine who fights for the contract at the Ultimate Finale.
Stay tuned…