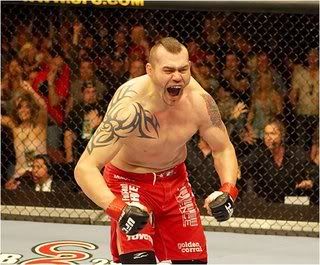 By: Shogun Gracie…. Arigato PUTOSSS
24 wins, 16 by knockout, 2001 – 2003 16-0 with only 2 decisions in that 3 year span. And you hate his guts, you boo him, and you call him boring. From the mean streets of Ellsworth, Maine. Tim Sylvia is 6'8″ 250lbs. and love him or hate him he will  go down in MMA history as one of the best to ever compete. He single handily broke the mold of the heavyweight division. Royce Gracie wouldn't have beat a Tim Sylvia back in the early days of the UFC. He is the first heavyweight to score a knockout via head kick. He helped others realize that the heavyweight division can be more than just ground and pound or lay and pray. He was the first big striker in the UFC; much like a young Mike Tyson. But Tim isn't going to jail, bad mouthing every opponent, and getting bad tattoos. Okay, maybe he has a few bad tattoos.
The masses still don't respect or appreciate Tim. If anything the average person should relate; he doesn't have the Sean Sherk muscles, or the GSP looks. Tim looks like your neighbor. But maybe you hate your neighbor. Although you may not like Sylvia there is no way a real fan could not say he is one of the best heavyweights of all time. There is a small group of legit fighters in the world at heavyweight compared to other weight classes. Tim has beat real fighters, unlike (a Bearded Internet star) others who stays away from big name fighters in their prime. May I remind you his list:
Brandon Vera
Jeff Monson
Andrei Arlovski 2 times
Ben Rothwell
Ricco Roriguez
Mike Whitehead 2 times
Jason Lambert
Tim is ranked 5th in the world byMMAWEEKLY (www.mmaweekly.com), ranked 6th in the world by FIGHT magazine (www.fightmagazine.com), and ranked 3rd in the world by Fighters.com(www.fighters.com). Like every fighter Tim has had his "off nights" but he rebounded every time and this time around his rebound fight is the "The Last Emperor", Emelianenko Fedor. With the Affliction card around the corner Tim has the chance to do something only one person (Tsuyoshi Kohsaka via TKO (cut) has done by beating Emelianenko Fedor. The loss was at RINGS KING OF KINGS 2000 due to an elbow strike that caused a cut. Under the rules elbow strikes are legal and Kohsaka was awarded the fight because of the seriousness of the cut. Fedor is regarded as the best heavyweight in the world. Fedor has cemented his place in MMA history as the most dominate fighter in the heavyweight division. Yet, anyone who thinks Tim is a warm up to the Mega fight between Randy and Emelianenko is using poor judgement. Should Fedor lose to Tim, it would have no affect on the fight with Randy because this fight is the reason the Affliction show was started. However, no logic can persuade me to believe Tim wouldn't deserve a rematch with Randy providing he (Tim) beats Emelianenko, and that win is VERY POSSIBLE mainly because Tim only has had 4 "off nights" out of 28 nights. On paper Fedor is not matching up well.  However, to his credit, Emelianenko makes big men small, and small men smaller.
Now after reading this you can still hate Tim, but don't let me find you saying "OMG", "I can't believe it", or "I never seen that coming" after seeing these two heavyweight warriors battle. Because July 19th at the AFFLICTION: BANNED card you may get to see Tim Sylvia have an "On Night"…. until next time ….Later PUTOOOS
-Shogun Gracie is an MMA Fighter from Pennsylvania.  He is a columnist for ProMMA.