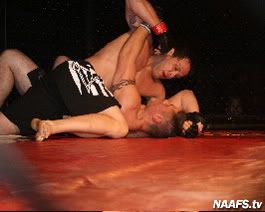 By Denny "The Mad One" Hodge
Sean Salmon has a problem. He can't say no. He has taken fights on a month's notice, and even said yes to fights that were only a week away. He has tried to say no, but cannot. If the call comes and someone wants to fight him, or if he learns that there is an event and someone doesn't have an opponent, he steps up and into the ring for another battle. He's in that position again tonight as he faces TUF alumnus Josh Haynes in the A Night of Combat II event. Sean has re-focused his career and has won his last 4 of 5 by TKO, and is looking to make some serious noise at 185. PRO MMA spent some time talking with Sean to get his thoughts on fighting on short notice, how he rebounded after the Rashad fight, and facing Josh Haynes tonight.
PRO MMA: Thanks for taking a few minutes to talk with us Sean. How does your training change in the weeks leading up to a fight?
SEAN: I used to go light in the week leading up to the fight, but now I go hard right up to about 3 days before the fight. I do take precautions to not get cut or injured, or to have any accidents in the 2-3 weeks before the fight.