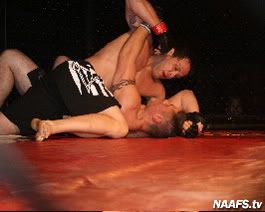 By Denny "The Mad One" Hodge
Sean Salmon has a problem. He can't say no. He has taken fights on a month's notice, and even said yes to fights that were only a week away. He has tried to say no, but cannot. If the call comes and someone wants to fight him, or if he learns that there is an event and someone doesn't have an opponent, he steps up and into the ring for another battle. He's in that position again tonight as he faces TUF alumnus Josh Haynes in the A Night of Combat II event. Sean has re-focused his career and has won his last 4 of 5 by TKO, and is looking to make some serious noise at 185. PRO MMA spent some time talking with Sean to get his thoughts on fighting on short notice, how he rebounded after the Rashad fight, and facing Josh Haynes tonight.
PRO MMA: Thanks for taking a few minutes to talk with us Sean. How does your training change in the weeks leading up to a fight?
SEAN: I used to go light in the week leading up to the fight, but now I go hard right up to about 3 days before the fight. I do take precautions to not get cut or injured, or to have any accidents in the 2-3 weeks before the fight.
PRO MMA: What do you do in your personal time when you are not fighting or training?
SEAN: I spend all my spare time with my 2 year old son. If I'm not training, or if I have any spare time, I'm with him.
PRO MMA: You fought in the UFC at 205, and this fight with Josh is at 185. Which weight do you prefer to fight at?
SEAN: This fight (with Josh Haynes) will actually be at a catch weight of 190. I had a real long training camp for my last fight, and was prepared to be at 185 for a different fight on October 18th. Since I took this fight on a week's notice, we settled on a fight at 190. I won't do it again, taking a fight on such short notice, because it hasn't always benefited me, but this fight made sense so I took it. But to answer your question, I'm way more comfortable at 185. When I fought in the UFC at 205, I didn't fight full time. I didn't have the time or resources to cut down to 185. Now I do, and I feel really good at 185.
PRO MMA: You have always been the type of fighter that would take a fight anytime, anywhere and against any fighter. What are your thoughts on this?
SEAN: I just can't say no. It's hard to know that someone called me out, or that someone needs an opponent. In the past, if my manager let me know about a fight, I would say yes immediately. I just love fighting. I love the travel, the interviews, the training, all of it. I'm trying to be more selective, and I have an agent now that screens some of this from me, but if I hear about it, I'd probably say yes again. It's just hard to say no.
PRO MMA: You've won four of your last five fights by TKO.  I've read on your blog that you have refocused your career, and the results have been very positive.  What changes have you made in your career and what are you doing to take your game to the next level?
SEAN: The biggest change is… that I've only been in this game for 3 years.  Until about 11 months ago, I never had coaching.  If I had some real training with some real good guys, it was only for a week at a time.  When I was in the UFC, I had only been fighting about a year and a half, with no real coaching.  Now I have a coach for jiu jitsu and I have a wrestling coach.
PRO MMA: Speaking of the UFC. Would you fight there again? A lot of guys have more opportunities now with more organizations, and some are happy bouncing around and not dealing with the UFC.
SEAN: I'm in a position now that I have to go where I am wanted. I have to go where it is best for me with opportunities, both with big fights and good pay. Yeah, I would fight in the UFC again if the opportunity was there again.
PRO MMA: I was in Atlanta at UFC 88 when Rashad knocked out Chuck, and I have always wondered how hard it would be to come back from a devastating knockout like that. When you fought Rashad, you faced a similar setback. How did you come back from that mentally?
SEAN: Each person is going to handle it differently. I don't know Chuck so I don't know if in his mind he feels like it's time to hang them up, or if he's just going to come back and keep fighting. I don't think he is done, he is still a big threat in the UFC. The Rashad KO; it was easy to blame on my conditioning. I was winning the fight but my conditioning was not what it should have been and Rashad took advantage of that. It was easy after the fight when I was training to blame it on my conditioning and keep that mindset. I would tell myself that it won't happen again. I never once second guessed myself or lost my confidence. I never once asked myself, "Is this the career path that I really want".
PRO MMA: Tonight you face a very tough Josh Haynes. He has been known to charge across the ring throwing huge shots, and seems to always be moving forward. How do you see the fight going?
SEAN: I see it starting with him charging across the ring. I always plan for the worst. He's going to come across the ring and try to kill me. I feel like I'm quicker, and the better wrestler, but I won't immediately look for a takedown when I get hit and put myself in a bad position. I've worked so hard on my standup so I will stand, but if I'm in his range I'll be very wary of his power. I'll pick and choose my takedown attempts and stay with the gameplan.
PRO MMA: Thanks for taking the time to talk with us. Would you like to send any shoutouts to anybody or thank any sponsors?
SEAN: Yes, thanks. Big shoutouts to MMAJunkie.com, and Tapout. I'd also like to thank TFsupplements.com. Thanks!