Press Release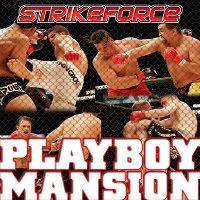 Former Pride Fighting Championship Grand Prix winner, Kazuo "Grabaka Hitman" Misaki (22-8-1) will take on fellow middleweight wonder Joe "Diesel" Riggs (28-10) at Strikeforce mixed martial arts'(MMA) highly-anticipated return to the world-famous Playboy Mansion in Beverly Hills, Calif. on Saturday, September 20th.
"I am looking forward to making my debut for Strikeforce at The Playboy Mansion, an incredible venue that is well-known throughout the world," said Misaki, the winner of Pride's 2006 welterweight Grand Prix elimination playoff. In his last effort, a meeting with rising star Logan Clark in Saitama, Japan on June 8th, the 32-year-old Team Grabaka star secured his second straight win by earning a nod from all three judges scoring the matchup.
"Joe Riggs is a tremendous competitor.  His style is aggressive like mine so I have no doubt that our fight will be an exciting and memorable one."
To arrive at the winner's circle of the highly coveted tournament produced by the now-defunct Pride organization, Misaki defeated both "The NY Badass" Phil Baroni and then-reigning Pride welterweight champion, Dan Henderson.
Misaki was eliminated in the tournament's semifinal round of action by Paulo Filho, but a knee injury Filho sustained during the contest precluded the Brazilian from advancing to the championship round. Misaki replaced Filho and capitalized on the opportunity, taking a split judges' decision from Denis Kang.
The 25 year-old Riggs of Phoenix, Ariz. is coming off a second round submission of Matt Dempsey on July 26th. The victory marked a successful comeback for Riggs after a back injury he sustained from being thrown by Cory Devela at Strikeforce's debut in Tacoma, Wash. on February 23rd, left Riggs ailing on the canvas and forced him to verbally submit only a little over a minute after the matchup began.
"The back's great. It's 100 percent," Riggs said. "I'm really excited to be healthy again and looking forward to getting back on top."
To help him prepare for what is arguably his toughest challenge in nearly two years, Riggs is bringing in to his camp a host of heavy hitters, including MMA legend Ken Shamrock, as well as former UFC Middleweight Champion, Rich Franklin; Jeremy Horn; and Edwin Dewees.
Riggs insists that this will be his final fight at 185 lbs. "I'm dropping to 170 lbs," he proclaimed, "and gonna jump into the top 10 in that division."
In a featured matchup with Eugene "The Wolf" Jackson at Strikeforce's inaugural Playboy Mansion-hosted event on September 29, 2007, Riggs overpowered the ageless brawler and finished Jackson at the 3:56 mark of the opening round with a ground and pound offensive.
During his seven-year professional career, Riggs has defeated a number of rival standouts, including Nick Diaz; Joe Doerksen; Chris Lytle; and "The Ultimate Fighter 3" winner, Kendall "Da Spyder" Grove.
The showdown between Misaki and Riggs is the first confirmed "Strikeforce At The Mansion II" matchup. The lineup will be comprised of 10 bouts.
In addition to a full night of MMA action, all "Strikeforce At The Mansion II" guests will be entitled to a top-shelf, open bar; buffet-style, gourmet dinner; and wine-tasting party featuring the spirits of various California gold medal wineries.
Strikeforce wrote a new chapter in sports history when it produced the first-ever MMA event at the Playboy Mansion last September. Amongst the host of celebrities who attended the affair were Hefner and "The Girls Next Door;" comedians Gary Shandling and Joe Rogan; actress and model Jaime Pressly; actors Michael Duncan Clarke, Christina Fulton, Ethan Suplee, Ernie Hudson, and Page Kennedy; MMA legends Royce Gracie and Bas Rutten; and superstars Cung Le, Frank Shamrock, Josh Barnett, and Andrei Arlovski.