by: Jack Bratcher
SHOWTIME
Wilson Reis vs. Bryan Caraway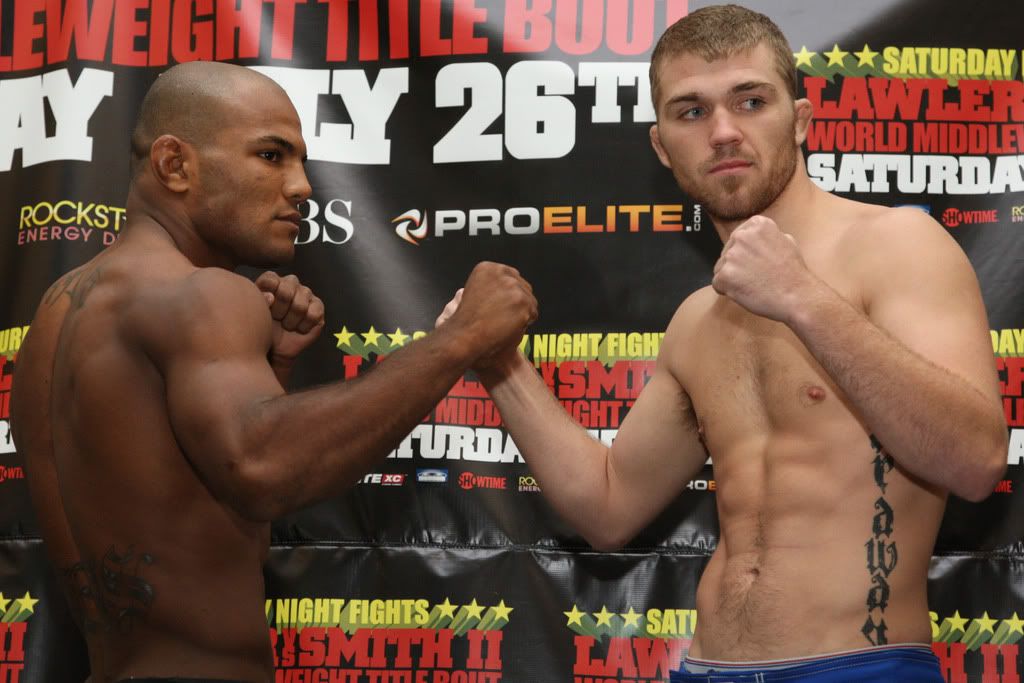 Round 1 – Caraway trains in the style of "Cowboy Karate". So basically we're gonna see Walker Texas Ranger vs. a BJJ guy. Nice. As they touch gloves in the center of the cage you immediately notice a ton of blood all over the mat. Hmmm. Can't wait to hear what happened. Caraway lands a looping right on Reis. Reis gets a takedown and is in Caraway's closed gaurd. Reis looking for full mount from side position. Reis stands up and punches at Caraway still on his back. They both stand. Caraway lands another left. Lands another punch. Reis doesn't look as comfortable on his feet as Caraway. Reis shoots in and gets another takedown. Reis gets full mount. Reis takes Caraway's back. Caraway gets out the back door and gets up. Both back on their feet. Left hook by Caraway then Reis shoots in for another takedown. Starts with a little ground and pound until the bell sounds.
Round 2 – Reis gets a takedown immediately. Both back up. Left hook by Caraway that connects followed by a big knee that drops him. Reis grabs the leg of Caraway, pulls him down and then gets top position. Reis recovered nicely and is in Caraway's gaurd. Ref warns to improve position. Reis obliges with side mount. Ground and pound from Reis. Fans getting restless. Both are back up to their feet. Reis has a leg, goes for a takedown but Caraway ends up on top. Reis reverses and ends up in half gaurd on top. Side control by Reis. Punches from Reis. Both back on their feet with Reis holding Caraway from behind then a big knee by Reis but no noticeable damage done.
Round 3 – Caraway lands two good strikes and a kick but Reis gets the takedown at will. Elbows by Reis from side control. Good ground and pound by Reis. Reis almost has full mount then Caraway reverses and ends up on top. Reis now reverses and ends up on top. Both back up now. Big kick by Caraway. Reis shoots in but Caraway sprawls but then shoots again and gets it. Reis must have gotten at least six takedowns in this fight so far. Reis stands up tries to throw a punch to the downed Caraway and ends up on his head. Both back to their feet. Big knee by Caraway to Reis as he shoots in. The commentator said Caraway had a dislocated knee prior to this fight.
Wilson Reis's takedowns really made the difference in this fight.
Unanimous Decision for Wilson Reis.(pronounced "HAYS")
Rafael "Feijao" Cavalcante vs. Travis Galbraith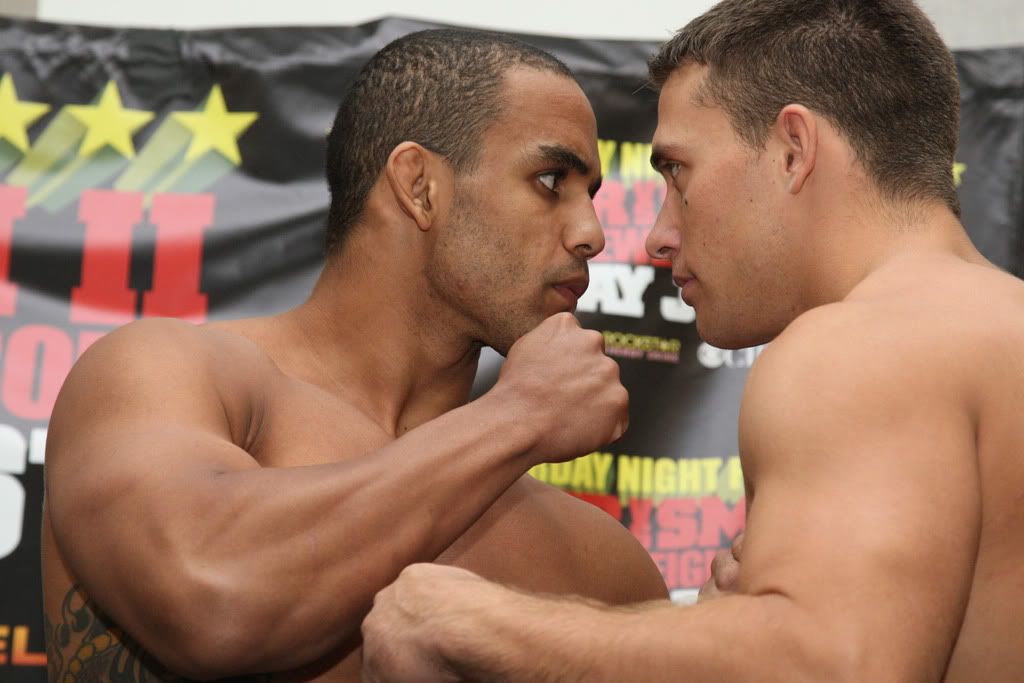 Round 1– Feijao has on the same color shorts, gold and black, as his trainer Anderson Silva wears. Clinched up against the cage. Knees by both. Feijao swings with an overhand right that misses. Clinched again. Feijao has looked for a muay thai clinch a couple of times. Feijao gets a trip takedown but Galbraith gets back up. Clinched again. Elbow by Galbraith. big overhand right by Feijao followed by four big knees while holding the plum, Galbraith drops. Faijao throws a couple of punches for good measure and it's over. Beautiful TKO win for Rafael "Feijao" Cavalcante.
Justin Eilers vs. Antonio "Bigfoot" Silva – ELITE XC HEAVYWEIGHT TITLE FIGHT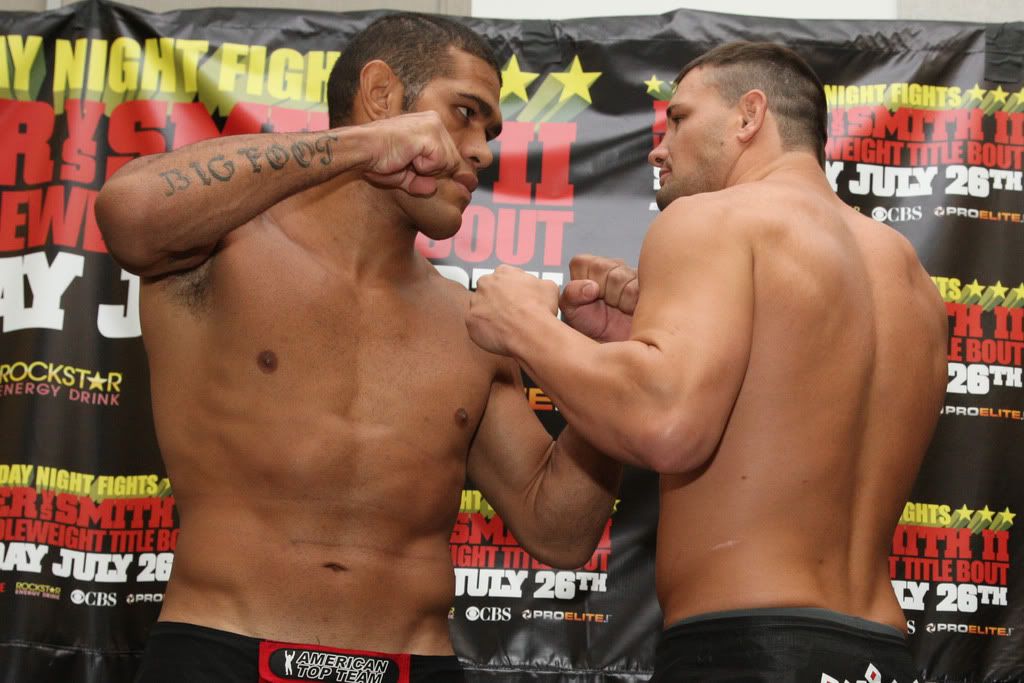 Round 1 – Leg kick by Silva. Flurry by Silva. Big left by Silva. Leg kick by Silva. Nice exchange by both. Silva shoots in and gets the takedown. Big knee by Silva. Herb Dean takes away one point from Silva for a shot to the back of the head. High kick followed by low kick by Silva. Then he pushes Eilers down. Eilers gets up. 1,2,3 by Silva. Clinched against the cage. Knees to the body by Silva. Body kick by Silva. Big leg kick by Silva that moves Eilers. Body punch by Eilers. Silva looks crisp and powerful. He's fast and BIG. I give that round to Silva pretty significantly. He is so strong. Oh forgot about the point deduction so it is probably a tie.
Round 2 – Round starts and Eilers leaps in with a left hook. Immediately Silva sounters with a left jab then grabs the plum, throws a big knee that hits Eilers followed by a flurry of punches. Eilers turns his back and grabs the fence as Bigfoot pounds him in the face from behind, Eilers goes down, and Herb Dean stops it with a TKO win for Antonio "Bigfoot" Silva.
CBS
Shayna Baszler vs. Cristiane "Cyborg" Santos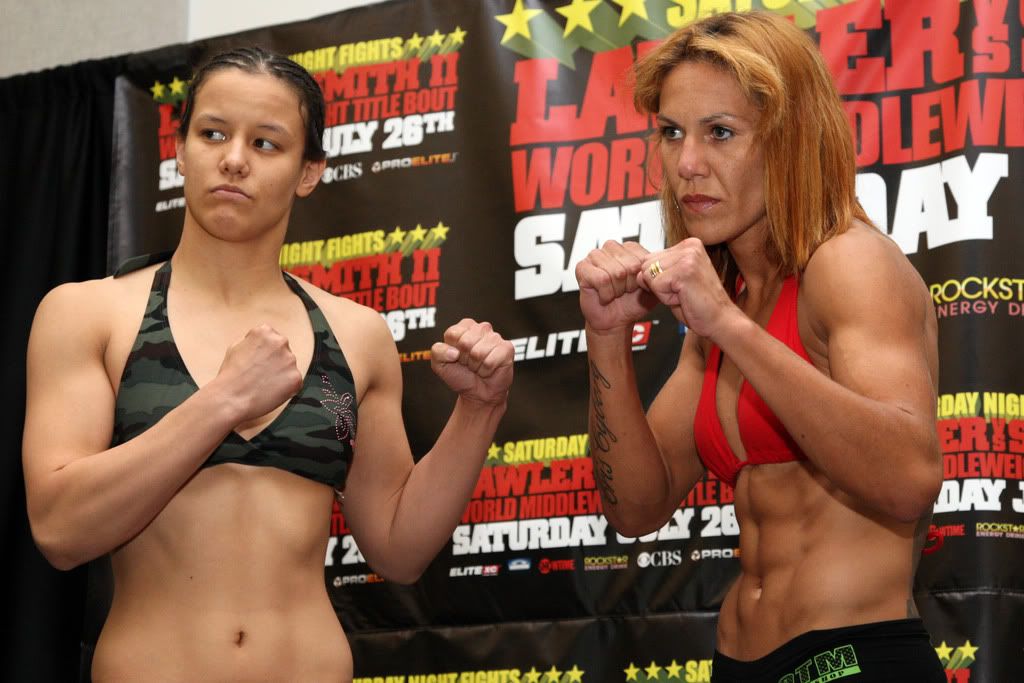 Round 1 – Cyborg comes out strong, she grabs the plum but she goes down. Baszler goes for a knee bar then a toe hold. Cyborg ties her up then stands up. Cyborg goes back down for some ground and pound. Baszler grabs a leg. Cyborg in Baszler's gaurd.
Round 2 – Big right hand by Cyborg. Baszler looking for a takedown but Cyborg throws her down. Big punches from Cyborg. Big right hand by Cyborg followed by a knee to the head. Cyborg's strikes look great. Baszler looks tired. Cyborg flurries and knocks Baszler down. Cyborg actually thinks she's won and she gets up on the cage and raises her hands like she won. The ref explains to her it's not over and tells her to fight. She looks very confused and shrugs her shoulders but puts her hands up and goes back for it. Cyborg then proceeds to finish Baszler by landing a huge combination of punches reminiscent of Chuck Liddell on Tito Ortiz. Beautiful display by Christiane "Cyborg" Santos and adds one more win to her undefeated record.
Jake Shields vs. Nick "The Goat" Thompson ELITE XC WELTERWEIGHT TITLE FIGHT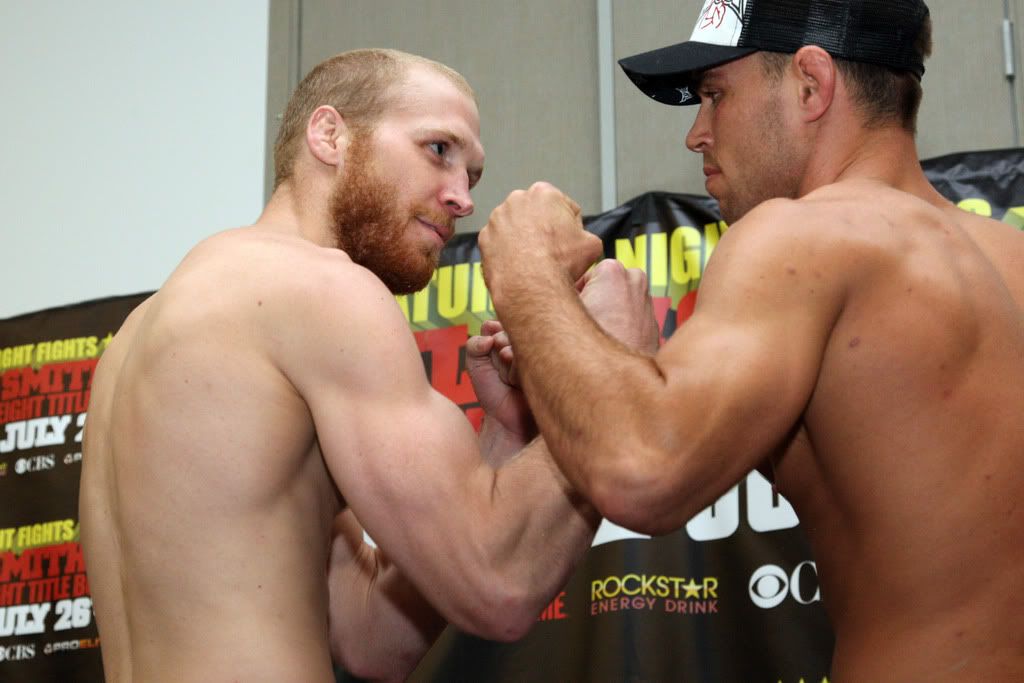 Round 1 – Shields takes it to the ground immediately and full mounts Thompson. Nicke bucks out but Jake Shields gets back on top and locks in a guillatine. Cranks it hard and Nick Thompson, the submission specialist himself, taps out. 10 wins in a row for Shields. Nick Thompson has 21 wins by submission, but not this time. Damn. Damn. Very impressive performance by Jake Shields. Guillatine choke from the full mount. 1:03 of round 1.
Shields says in his post-fight, in-ring interview that he would like to fight the winner of GSP vs. Fitch (which is a UFC fight) and unify the world titles. Keep dreaming there Jake ol' buddy.
They interviewed Kimbo and said he will be back in October on the next CBS Elite XC card. Kimbo said he's not yet sure who he's fighting but hopefully will get a KO win.
Nick Diaz vs. Thomas "The Wildman" Denny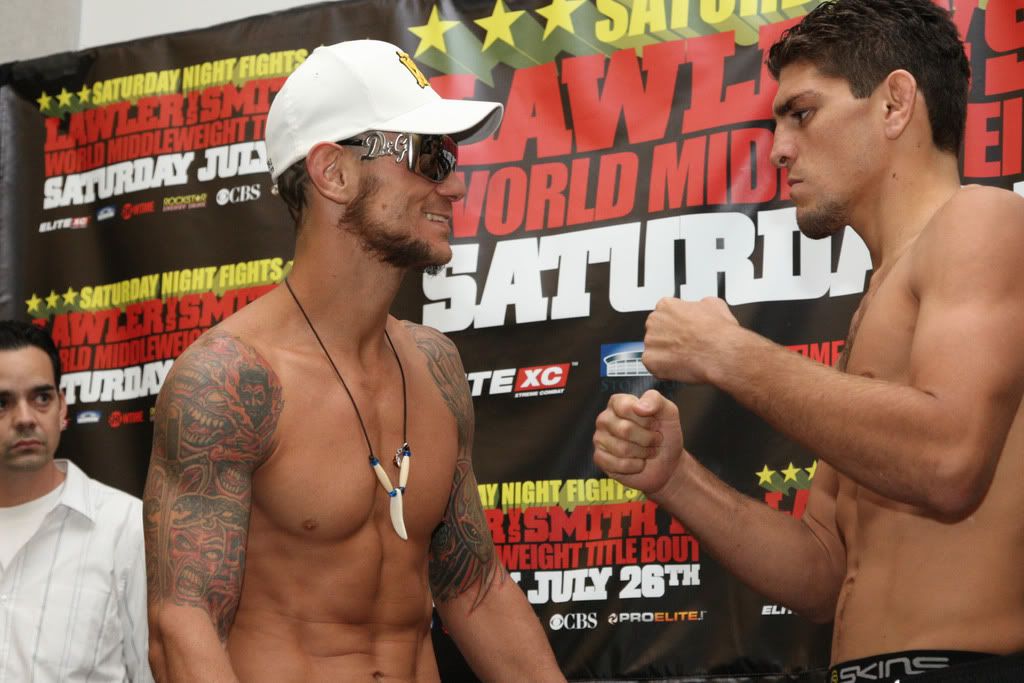 Round 1 – The WAR of STOCKTON. Smack talking at the staredown. Diaz doesn't look Denny in the eye. Denny comes out aggressive. Dennsy swiging and connecting multiple shots. Diaz staying in the pocket and taking some of the shots. Denny goes for a takedown and Diaz grabs his arm looking for an armbar. Denny escapes. Diaz looking for a double leg but lets it go. Denny pouring on the strikes. Diaz connecting with counterstrikes. Its a battle fellas. Both fighters landing shots. Diaz rocks Denny. Denny eats another hard jab. Superman punch lands by Denny. Big left hand by Diaz. Denny goes down but gets up and Diaz pops him again. They clinch up. Big exchange by both. Denny is swinging back It's a war. This may be the fight of the year guys. Holy shit. Both guys banging and connecting and the bell sounds. Oh man…..very exciting.
Round 2 – Big right hand by Diaz. Denny is rocked. Diaz pours it on looking like a professional boxer….Denny goes down. Denny lands another few shots while Denny is down and the referee stops it to save the Wildman. TKO win for Nick Diaz in a very impressive performance.
They just showed Anderson Silva in the audience. He was signing his autograph for a kid. They said "there's Anderson Silva, the UFC Middleweight Champion and the number one ranked pound-for-pound fighter in the world." That was awesome to see them do that. Do you think the UFC would ever recognize and point out another organization's champion in attendance? Not a chance. I wonder how many people watching actually think that Anderson Silva now fights for Elite XC or if what they are watching on CBS tonight is in fact the UFC. I gaurantee you there's more than a few.
Scott Smith vs. Robbie Lawler – ELITE XC MIDDLEWEIGHT TITLE FIGHT

Round 1 – High kick by Lawler followed by leg kick by Smith. Another head kick that misses by Lawler. Leg kick by Smith. Another leg kick by Smith. Smith throws a one,two, three, followd by a leg kick. Right hand by Smith. Clinched up. Knees by both. Body kick by Lawler. Lawler with a right jab that's measuring then follows with a big left. Right hand by Smith has Lawler against the cage. Lawler got popped. Right jab by Lawler. Great round with both guys landing some clean shots.  Compustrike had Smith landing more shots that round..
Round 2 – Elbow by Smith. Another one. Lawler swings back. Big shots by Lawler. Big elbow by Smith. Body shots by Lawler. Big lefts by Lawler from the clinch. Lots of blood now coming from the top of Lawler's head. Still clinched. Big knees by Lawler to Smith's body. Lawler grabs hold of Smith and delivers three or four huge knees to the body that drops Smith. Lawler follows up with punches and kicks to the downed Smith until Herb Dean stops it via TKO. Great performance by Robbie Lawler.