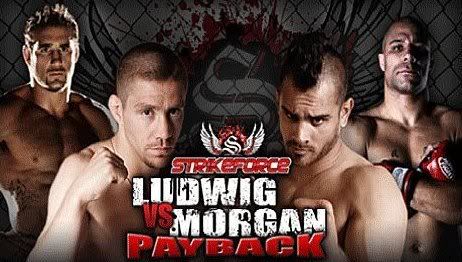 By Denny "The Mad One" Hodge
Broomfield, Colorado- Strikeforce: "Payback" takes place tonight at the Broomfield Event Center and will be live on HDNet starting at 10 P.M. Eastern/9 P.M. Central.
UFC vet and local fighter Duane Ludwig will face off against "TUF 2" participant Sam Morgan in the main event, and Top Ten ranked Frank Trigg faces Falaniko Vitale in the co-main event.
Featherweight match- Ricky Johnson vs. Tyler Toner
Round 1– Nice body kick by Toner then to the clinch.  They separate with Toner throwing a nice combo, then following with a low kick.  Toner misses with a high kick, and Johnson closes the distance and forces Toner against the cage with some knees and foot stomps.  Nice elbow by Toner off the clinch.  Both fighters using kicks.  Toner misses another high kick, and Johnson gets in a nice uppercut with some dirty boxing.  Johnson loads up and misses with a big right.