All bouts are official with all fighters weighed in and ready to go for Saturday night's Bellator 120 card featuring Quinton "Rampage" Jackson vs. King Mo Lawal in the main event. This will be Bellator's long-awaited first foray into the Pay-Per-View market with the prelims airing on Spike.com and Spike TV.
Things got heated between Rampage and King Mo as they exchanged words during the staredown, then Rampage shoved Mo backward pretty hard. Rampage said he "didn't train to beat Mo", he "trained to destroy him". Here's the GIF: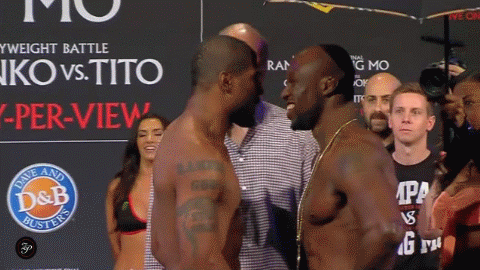 ProMMAnow.com will be live on the scene in Southaven, Miss., just outside Memphis, Saturday night to bring you LIVE play-by-play commentary on all the action. We will also provide a live stream of the post-fight press conference, so be sure to join us.
The Bellator 120 weigh-in results include:
MAIN CARD (Pay-Per-View – 10 p.m. ET)
Light Heavyweight Tournament Final: Quinton Jackson (205.9) vs. Muhammed Lawal (205.6)
Interim Lightweight Championship Fight: Michael Chandler (154.9) vs. Will Brooks (154.2)
Light Heavyweight Fight: Alexander Shlemenko (201.9) vs. Tito Ortiz (205.5)
Heavyweight Tournament Final: Blagoi Ivanov (249.5) vs. Alexander Volkov (236.1)
Welterweight Fight: Rickey Rainey (170.1) vs. Michael Page (170.5)
PRELIMINARY CARD (Spike TV – 8 p.m. ET)
Heavyweight Fight: Cheick Kongo (235) vs. Eric Smith (253.8)
Catchweight (158lbs) Fight: Nate Jolly (158) vs. Marcin Held (158)
Featherweight Fight: Shahbulat Shamhalaev (145.1) vs. Fabricio Guerreiro (147.9)
Featherweight Fight: Goiti Yamauchi (145.5) vs. Mike Richman (145.5)
PRELIMINARY CARD (Spike.com – 6 p.m. ET)
Featherweight Fight: Zach Underwood (152.3) vs. Austin Lyons (152.4)
Heavyweight Fight: Justin Frazier (264.5) vs. Mike Wessel (257.9)
Welterweight Fight: Ben Brewer (170.2) vs. Andy Uhrich (170.5)
Welterweight Fight: Anthony Lemon (170) vs. Codie Shuffield (170)
Bantamweight Fight: Cortez Phelia (125.6) vs. Brain Hall (125.6)
Here's a look at the weigh-ins and staredowns of the three big fights on the main card:
http://youtu.be/Gv-NqXG6oMo
[ads1]
[ads2]