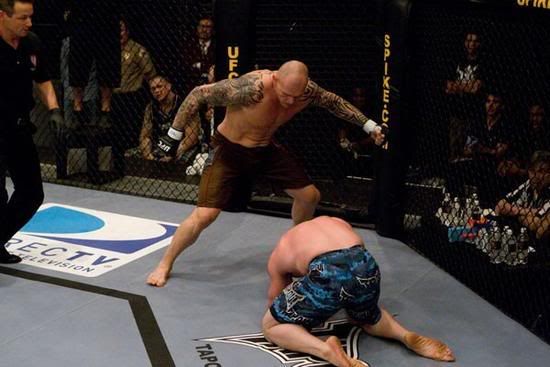 By Denny "The Mad One" Hodge
This should have been posted last evening, but I had the privilege of watching the show with members of my gym at Guardian MMA, which included one of the fighters from Season 8, Shane Primm . We've all been looking forward to seeing one of our own in the UFC Octagon and couldn't wait to see Shane in action since the announcement was made that he would be on the show.  Shane is the fourth fighter from Gracie Tampa, and the first from Guardian MMA that has made it onto The Ultimate Fighter, and we expect big things from the young and talented light heavyweight.  That being said, there has been a lot of talk in forums on the web about Jason Guida, Lance Evans, and Joe Duarte.  Some had even speculated that the "next Anderson Silva" comment made by Dana White may have been referring to Duarte. Much to my surprise, none of these these three fighters even made it into the house after the first episode.
The show started with Dana making his entrance and telling the fighters to line up. LW Phillipe Nover starts to bob and weave, and ends up passing out in the arms of his fellow fighters. Dana had some laughs once they knew that Nover was OK, and then got down to the business of explaining that the fighters would be fighting to earn a spot in the house. The trash talking began immediately with Jason Guida proclaiming,"I'm ready to punch all these dudes in the face", "I don't give a [fu&*] if he's in the UFC or not. Anderson Silva? I don't care. Throw me 500 bucks, I'll fight Chuck Liddell."
Dana then let the fighters know they had 24 hours to weigh in, leading to the drama that was Jason Guida. It was obvious looking at Jason Guida that he didn't come prepared and would be battling just to make weight to stay on the show.  Several guys had to cut a few pounds, but Guida was struggling the entire time and was told that if he didn't make 206, he'd be going home. The commission was not going to allow him to stick around and cut any more weight. Guida stepped on the scales and to nobody's surprise, still didn't make 206 limit, missing it by a single pound. He was informed that he would be leaving and he threw a lengthy tantrum, but eventually departed via ambulance. Dana explained that the UFC tries to plan for these types of things, and a diesel looking Mike Stewart was introduced as the alternate and stepped on the scales making weight easily.
It was finally time for Nogueira, Mir, Dana, and the fans to see what this latest group of TUFF'ers was made of. First up is the alternate Mike Stewart, facing fellow light-heavyweight Krzystof Soszynski. Looking at Krzystof it's hard to believe he's a 205'er and he looks like a beast as he quickly stalks Stewart and blasts him with a huge left hand. He follows up with some more shots but the fight is stopped by the ref. Just as quickly as Stewart's UFC dream had been re-ignited with the departure of Guida, it was just as quickly extinguished by a very experienced Krzystof. Mir was impressed saying he "definately did not disappoint."
Next up is the LW's with Fernando "The Machete" Bernstein vs. Dave Kaplan who boldly told the world that his motivation for fighting is strictly for the money. The fight starts with some kickboxing and looks like this one may turn into a standup battle for the entire fight until Kaplan gets a takedown, and transitions to Bernstein's back, cinching up a rear naked choke that punches Kaplan's ticket into the TUF house. Dana takes a shot a Bernstein's nickname saying The Machete was "more like a butter knife".
The much hyped Joe Duarte would be next facing off against the guy that passed out in Phillipe Nover. Duarte gets caught with a high kick than one in the jewels and the fight is stopped momentarily. With both fighters in the clinch, Nover gets in some nasty foot stomps breaking several of Duarte's toes in the process. The camera swings to the coaches and Nogueira remarks that he hates those stomps. Mir agrees and negotiates with Nogueira that he won't use the tactic agains Big Nog, if the favor is returned. Pretty good dialogue between the coaches early with Dana laughing and nodding as usual. Back to the fight, and Herb ends up breaking the fighters up with a delay in the action, and Duarte lands a shot taking Nover to the ground. Duarte gets Nover's back, and instead of defending, Nover is content to throw some shots to the face of Duarte behind his head. One shot in particular smashes Duarte's nose with a crunching sound that you could hear while watching the show. Everyone is impressed with Nover after Round 1.
Round 2 starts with Nover getting a takedown and proceeding to drop big elbows from the top. Duarte has been taking some punishment and rolls, with Nover transitioning to his back and getting the win via RNC. Dana is the first to remark that he is impressed with Nover considering he laughed at him for fainting earlier in the show.
The light heavy's are ready to go with Eric Magee vs. Jules Bruchez.  Magee is looking to push the action with a guillotine attempt, but Bruchez works out, rolls, and works for the rear naked.  He locks it in and Magee taps, with Bruchez yelling "I didn't even throw a punch!"
Brother of LHW contender Rashad Evans, Lance Evans is next facing off against Vinny Magalhaes. This fight is basically highlights of round 1, with the clip ending in Evans grasping at his ribs. Evan's dream of UFC glory is ended as he doesn't even come out for Round 2 due to his rib injury.
Antwain Britt and Ryan Jimmo are next for the light heavy's and is also highlight based, with Britt earning his way on the show with a decision victory.
Garner vs. McLaughlin is next with Brain McLaughlin looking pretty dominant until he is blasted by an illegal knee while on his knees. The bout is ruled a no contest and Dana explains that this is a new situation, and after some deliberating, the still shaken McLaughlin is declared the man that will be living in the house with the other victors.
A very boastful Junie Browning vs. an equally confident Jose Aguilar who compared himself to
Hitler, and saying he was a criminal, mixing in a "dawg" every other word faced off in a brutal finish to the fights in episode 1. Browning had the funniest line of the night referring to what kind of chance Aguilar had of beating him, saying "He's got a better chance of getting me pregnant". The fight starts quickly, but it is evident that Browning is interested in making a point as he connects with a lot of damaging shots, leading to Aguilar refusing to fight Round 2.
It is sure to be an exciting Episode 2 with the remaining fights yet to be seen, and with the introduction of the guys to the house which always seems to fuel some first night drama in nearly every season.
Tune in every Wednesday at 10PM/ET to Spike TV for TUF Season 8: Team Nogueira vs Team Mir, and stay tuned to Promma.info for all the latest news related to the latest season of The Ultimate Fighter.