By: Kelvin Hunt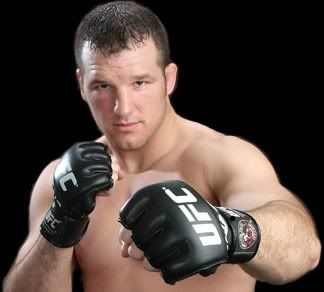 In a few weeks UFC 88 will be upon us, and a interesting fight that many have forgotten about is Matt Hamill vs. Rich Franklin.  This will be Franklin's first fight at LHW since a TKO win over Ken Shamrock in 2005.  Hamill is coming off a TKO win over Tim Boetsch in April of this year.  This is an interesting fight for a couple of reasons, so let's take a look at how each fighter matches up going into this fight.
Franklin likes to stand and trade, but is versed on the ground as well.  Whereas Hamill is a very good wrestler with a standup game that has improved leaps and bounds since being on The Ultimate Fighter.
Hamill has a very good chin and incredible strength.  Franklin has a good chin as well and good striking but doesn't have that one punch KO ability (save the Quarry fight).
Hamill's biggest question mark is his stamina, whereas there is no question about Franklin's ability to go the distance.
Hamill has shown a propensity to want to stand and trade during his last two fights, even though most people consider him a very good wrestler.  Even when he took Bisbing/Boetsch down, he never really attempted to do much GnP.  He kind of just let them back up to their feet whenever he wanted.  So it will be interesting to see what kind of gameplan his camp has developed for Franklin.  Franklin has good take down defense, but it's not GSP-like…so Hamill can get the takedown if he wants.  The question is what will he do with it if he does get Franklin down?
I think the X-factor in this fight will be Hamill's cardio.  He looked tired in the latter rounds of the Bisbing fight as well as the fight with Boetsch.  If Hamill comes into this fight in shape and with Franklin moving up in weight…I could definitely see him winning this fight by decision.  However, if he doesn't come into this fight in shape, I see Franklin wearing him down and winning by TKO in the third round.