by:  Jack Bratcher

Lots of people train in martial arts all over the world but far fewer ever take that step into the ring to test their skills against an oppoent.  Is it a certain gene or personality trait produced from the result of past experiences that causes a man or woman to want to compete with another person to see who is the toughest and most skilled fighter?  Are you tough enough to get in a ring with someone who has nothing but bad intentions for your physical well-being?  Anthony Cessario took that fateful first step last week when he fought his very first full contact MMA match against Odis Alex Ruiz at Tuff-N-Uff's Future Stars of MMA event at the Orleans Hotel and Casino in Las Vegas.
PRO MMA: Hi Anthony, rarely do we get to speak with someone who has just made their MMA debut. How did the fight turn out?
AC: It went alright. I lost by decision, but I felt ok about it for my first fight. Alex was tough. He was big, real tall, and real fast for 155. I knew he had good hands and a lot of reach on me, so I was planning on going to takedowns if he came in swinging. I've been wrestling since I was a kid, so I'm real comfortable with my takedowns. I took him down a handful of times pretty easily, but I froze a bit on top and didn't pass his guard. He landed a couple good punches and a nice high kick to my shoulder when we were standing and I never got my hands going. In the 3rd I was a little tired and my legs weren't under me. I think I took a bad shot and he got my back. He never went for the choke and didn't land any solid punches, but he had my back for a while. I knew whatever plan I had was going out the window after 15 seconds and that I would go to my wrestling. I am anxious for my next fight, so that I can open up a bit a more. All in all, I think it went well.
PRO MMA: So it was your first fight and you didn't come away with the "W." Have you had enough?  I mean, you tried it, it didn't work out, so you are ready to hang up the gloves?
AC: Haha Absolutely not. I've been in a lot of fights and a lot more wrestling matches. I certainly didn't win them all. You just have to take what you can from the loss and get ready for the next one. Everybody wants a "W", but like I said, I had a great time and it was a great experience.
PRO MMA: I'm sure you learned some things from this fight. Many of the top fighters in the world started out the same way. What are some things you can say you took away from this fight? Is there any one thing that sticks out above the rest that maybe you learned from this fight?
AC: I took a lot away from the fight. Mainly I realized how short 2-minute rounds are. You really have to understand how much time you have left with short rounds like that. The biggest thing that stood out was that I didn't really open up at all. I resorted to my wrestling and never got a chance to work my BJJ or standup as I would have liked. People told me that it would happen, but I didn't really understand it until I found myself looking for takedowns instead of knockouts or submissions.
PRO MMA: Being that this was your first fight, how did you get hooked up with TUFF-N-UFF; how did they find you?
AC:  A few fighters from my team, SB FIGHTER, fought in the 1st Tuff-N-UFF a few months ago. I came and really enjoyed the venue. My coach and manager, Anthony Arria, was in touch with Barry and got me hooked up with the fight.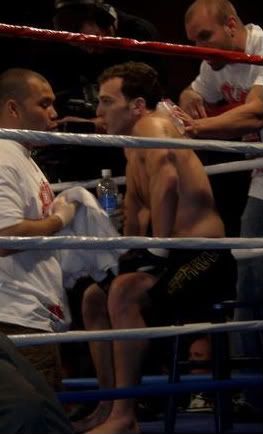 PRO MMA: What advice would you give other guys or gals out there who are thinking about fighting competitively in MMA but just haven't taken that step yet of getting into the cage?
AC: All I can say is train hard and get in there. There is nothing to lose and everything to gain. TUFF-N-UFF did a great job making sure the fights were as safe as possible, and they really stressed the fact that these are amateur fights and there is no need for serious injuries. If you are training to fight, you need to be out there fighting,. period. There is no way to get better unless you're out there testing yourself against tough fighters.
PRO MMA: How long have you been training MMA, Anthony and how did you know it was the right time to get in the ring?  Which do you prefer, ring or cage?
AC: This fight was actually in a ring. I wish it had been a cage. I got some nice burns from the rope in my armpit…haha. I've been training MMA for about a year and a half, but I've been wrestling since I was about 5. I've done a few Pankration tournaments and a smoker and did pretty well. I was just at the point in my training where I wanted to step up and see where I was at compared to other fighters trying to make their mark right now.
PRO MMA: As a fighter fighting his very first bout in TUFF-N-UFF, how are they as an organization? Were you pleased with how everything went and the way they treat their fighters?
AC: They were awesome. They really were. Anytime I needed something, they did whatever they could to help me out and everything ran really smooth. It was great. I've been competing for a long time, and they were definitely one of the classiest organizations that I have ever competed for.
PRO MMA: So what happens now Anthony, where do you go from here and when can we expect to see you back in that cage?
AC: Well, I just moved from Santa Barbara to San Francisco last week, so for me I'm headed back to SF to get used to my new home. I'm going to take the week off, then start training at my new gym, K-1 Fitness. I want to give myself probably around 3 months until I fight again. I hope to get a few smokers under my belt back here in CA, then I would love to get back out there to Vegas to fight in TUFF-N-UFF again.
PRO MMA: How far do you want to go with MMA? What is your ultimate goal?
AC:  Honestly, I just want to take it as far as I can. With work and school, it's hard to train as much as I would like to. For now, I just want to take it one fight at a time and start with a "W". I've never trained to lose, so I will continue to train to win fights, and where ever that takes me I will be happy.
PRO MMA: Thank you for taking the time to speak with us Anthony. Do you have any final thoughts or anyone you want to thank?
AC: Yea, I definitely want to thank TUFF-N-UFF for the great venue and the opportunity. They were a class act. I also want to thank my sponsor, 805 Clothing, and all my coaches. Anthony Arria, Mike McDonald and Kenji Sato for SB Fighter, Corby Polis, Jeff Glover, and Bill Cooper at Paragon, and the guys at The Pit, Eric Schwartz and Cruz Gomez.
PRO MMA: You live in San Francisco, right? If someone in that area is looking for a good MMA gym can you recommend somewhere?
AC: Haha, I was asking a lot of people the same question last week! I actually went around town and looked into a bunch of gyms. There is a lot of really good Muay Tuai with Fairtex up here and a handful of other gyms. There is also some good BJJ. I wanted a well rounded gym, so I ended up choosing a great gym called K-1 Fitness. It's big, has great coaches, and no ego's. I like it a lot. So, depending on what you are looking for, there is a lot of different gyms out here. For the past year and a half though, I have been training with SB Fighter in Santa Barbara at AMA. If you're in that area, SB Fighter is the best team to train with hands down. The 805 really does have some of the best BJJ and Striking coaches in the World.
To learn more about the Tuff-N-Uff organization and find out about future events, you can visit their website. You can visit AJ Cessario on his MySpace page.