by:  Jack Bratcher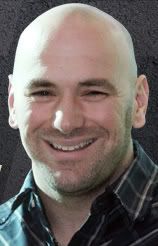 Dana White was on today's edition of Drive This, a Hardcore Sports Radio daily program.  Dana was in the studio promoting UFC 87 on the Sirius Satellite radio station which also features such programs as Mauro Ranallo's Fight Network Radio.  UFC 87, this Saturday, August 9th, headlines with a Middleweight Title Fight that has GSP defending his title against Jon Fitch.  Dana says it will be a hard fight for the Canadian; harder than many may think.  Also appearing on the card will be Brock Lesnar against Heath Herring and Roger Huerta versus Kenny Florian.  Dana says it's going to be a hard fight for Lesnar as well.
As you can imagine, Dana has some thoughts about Roger Huerta and some of the recent comments he's been making regarding his contract with the UFC and fighter pay.  First of all, Dana makes it a point for everyone to remember who built Roger Huerta.  Then Dana says he thinks Huerta has been reading the headlines about himself and maybe buying into his own hype too much.  He says Huerta must be thinking, "look at all the promotion I'm getting, I must be worth more money.  But he hasn't fought anyone yet to get the money.  If he beats Kenny Florian, that's a whole other ball game.  Now we can start talking."
Dana goes on to say, "That's the business I'm in.  I have 250 contracts….250 egos to deal with…and at the end of the day everybody needs to make more money."  Roger Huerta has two fights left on his contract after Saturday's fight and when the current contract is up he can renegotiate a new one.   So what's Huerta's problem?  The inteviewer says that Huerta was mentioning problems with the per diems and things like that which refers to the amount of money the fighter is allocated per day for food and incidentals while doing press tours.  Dana says that Huerta was "bitching" about doing P.R. and then says, "….yeah moron, how do you think you make more money?  You don't make more money unless people know who you are and wanna see you fight.  Am I supposed to pay Roger Huerta to go out and do P.R.?"
Dana uses an example of Oscar De La Hoya.  He says, "De La Hoya weighs-in in Vegas, then flies to L.A. to do P.R. before the fight because, he makes more money, he becomes more popular, and more people want to see him fight."  Then Dana puts the cherry on top, "What happens is, these guys turn into pussies, that's what happens."  Classic.
Dana prophesizes that Affliction will go out of business.  He says Affliction lost about four million dollars on their last show.
Inevitably, as it seems is always the case when Dana is doing an in-depth interview, the topic of discussion moves to Tito Ortiz.  It is reported by one of the interviewers that Tito took a cigarette out of a man's mouth at the Affliction event, broke it in half and told him not to blow fucking smoke in his girlfriend, Jenna's, face.  Dana says the reason Tito was a wallflower on the Apprentice reality show and barely talked was because he didn't want to be exposed as being completely "fucking retarded."  Oh man.  I haven't heard Dana this fired up in awhile.  He also goes on to reaffirm that "Tito is the biggest moron on Earth."  Dana seemed to find amusement in the fact that Affliction came out with a press release talking about how intelligent Tito is.  The final thought on Tito concerned his new rumored deal with Affliction.  If Affliction really is going to pay Tito Ortiz the biggest salary in MMA history, it's the dumbest business move of all time according to Dana White.
Rampage is OK and will be at the Minneapolis event and his recent situation seemed to stem from exhaustion and lack of nourishment rather than any mental issues.
The inteviewer asks Dana if there's anything he regrets or would do differently if he could go back in time.  Dana says the only real thing he thinks he would do differently would be with a certain individual who in the beginning they tried to promote and build up but this particular person wasn't a "real fighter" and didn't really want to fight, so Dana regrets wasting his time on this guy.  I'm sure you know who that is.
Tennessee, Massachusetts, and New York were the last three unsanctioned states for the legalization of MMA.  Tennssee has been legalized and Massachusetts and New York should be legalized in 2009 according to Dana.  If for no other reason than what Dana and the UFC have done to help legalize the greatest sport in the world, MMA fans owe them respect and admiration.  If it weren't for them I may be running a video game reveiws website instead of the coolest, hippest, kick ass MMA site this side of Mexico.  Seriously though, the UFC and Dana have practically grown a whole industry up around them.  It's hard to even imagine another business in the world who has been able to accomplish what they have.
Check out the full audio interview Dana White on Hardcore Sports Radio's Drive This to hear all this and more from the man himself, Dana White.