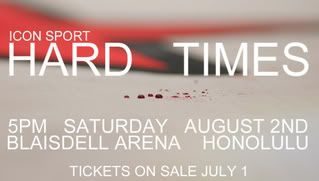 By: Denny "The Mad One" Hodge
The Hawaiian phrase "Hale Koa" means house of the warrior.  Hawaaian culture is steeped in tradition, and MMA is the perfect platform to keep that fighting spirit alive on the islands.  Icon Sport is back with their latest offering called "Hard Times".  Past events have showcased big names and local heroes and this card is no exception. "The New York Bad Ass" Phil Baroni (10-10), will be back in action following his Cage in the Rage devastating first round knock out of Ryan Jensen.  Baroni is looking to make it two in a row after defeating Jensen, and following his key loss to Joey Villasenor on the Elite XC CBS show a couple of months ago.  He will be facing the scrappy vet Ron Verdadero (3-5) at 175 lbs.
Kala "Kolohe" Hose (6-2), the Icon middleweight champ and Hawaiian knock out artist will face Rolando Dominique (6-1), in a non title belt match set for 180 lbs.
The 140 pound North American title will be on the line with 135 pound champ, Mark Oshiro (11-1) who has been called the "Bantamweight Chuck Liddell", as he brings his explosiveness against Bao Quach (14-8-1) for the vacant title. Quach has won 8 straight and will look to continue his hot streak against Oshiro.  This fight should be full of fireworks as both guys are beloved in Hawaii and will be amped from the crowd.
Another title, this one at 170-pounds, will be up for grabs, with a BJ Penn trainee, Ross "The Boss" EbanezKeoni Bryant (3-0). (18-6).  He will be battling for gold against the undefeated submission guru,
Icon Sport: HARD TIMES Sat Aug 2 Honolulu, HI
5PM HAWAII START TIME. 8PM PST. 11PM EST.
Fight Card
Rolando Dominique vs. Kala Kolohe Hose
Bao Quach vs. Mark Oshiro
Ron Verdadero vs. Phil Baroni
Hideto Kondo vs. Sidney Silva
Jose Diaz vs. Mario Miranda
Eddie Rincon vs. Dean Lista
Maui Wolfgram vs. Richard Desforge
Kurrent Cockett vs. Sadhu Bott
Ed Newalu vs. Ricky Hoku Wallace
Kyle Miyahana vs. Brewski Lewis
Ian Dela Cuestra vs. Ola Silva
Brad Taveres vs. Devin Kauwe
Mark Tajon vs. Alan Lima