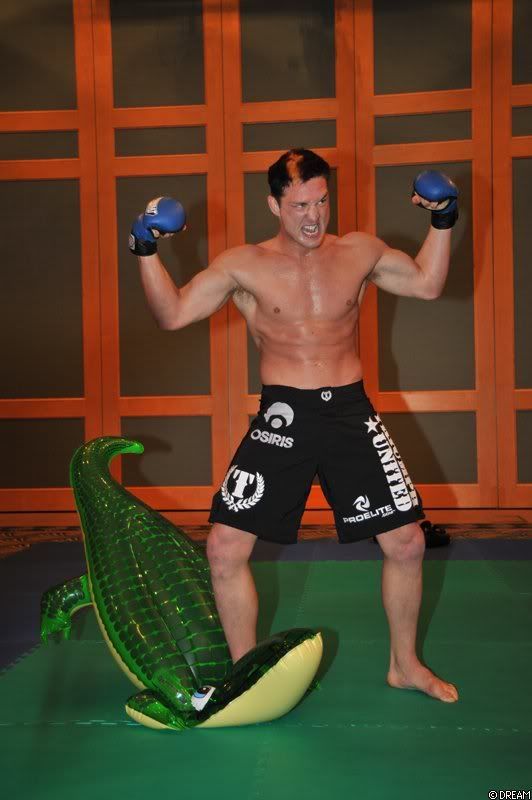 By MAD
Dream 4 is right around the corner, and with a weekend jam packed with MMA, one of the most colorful personalities in the fight game is back at it again.  PRO MMA's very own "Tru" interviewed Jason "Mayhem" Miller a few days ago, and as usual Mayhem was as crazy as ever.  He told Tru that he had something for "Jacare" on the ground once they square off, and there was no shortage of words in his latest interview at Sherdog.com.
Ronaldo Souza or "Jacare" as he is better known, is a world class Jiu Jitsu expert and his nickname "Jacare" translates to "Crocodile" in Portuguese.  He is known to do a crocodile style dance after he wins a fight, and there is no surprise that Mayhem would find a prop to represent Souza and exploit it to its fullest potential like he did in the picture above.  Mayhem is known for his antics which has garnered him a nationwide, if not a whole world full of rabid fans known as the "Mayhem Monkeys".
In his interview with Sherdog this is what Mayhem had to say about the fight:  "This kid is overhyped, you know what I mean?" Miller says. "He fought a bunch of chumps, and now he thinks he's awesome. So that's cool. Whatever. But I've fought the toughest names in the business and beat many of them. … Am I expecting an easy fight? No. But at the same time, I love the fact that [people] think I'm going to get murdered because he's got a bunch of f—ing Internet Web clips of him submitting dudes. … Most ground guys, they get scared and just hold on to the guy and try to slow the fight down. I'm trying to speed it up. If I'm in a great position and I'm not finishing a guy, I will take myself into a worse position just so I can try to finish. I don't care. If he gets out, I'll deal with it. I don't want to put the crowd to sleep."
Mayhem is a perfect fit for the Dream card, and the Japanese fans in general.  His style and brashness is part pro wrestler, part MMA, and part power ranger.  No matter what category you think he fits in, above all he is an entertainer and refers to his fighting style as a new style pro wrestler or in his words, "nouveau pro wrestling".
This fight has all the makings of a flat out war, and could contend for fight of the year status if both are at the top of their game come fight night.  Will the "Mayhem Monkeys" be celebrating after the fight, or will the Crocodile rip off a limb on his way to his celebration dance?