by:  Jack Bratcher
One of our goals here at PRO MMA is to bring more awareness and publicity to the Mixed Martial Arts talent in the Southeastern United States.  As I sat down and began thinking of how we could do this, the first name that came to mind was Ed Clay. Ed wears many hats in the Mixed Martial Arts world.  He's been a professional fighter, an instructor, radio host, and a businessman to name a few. He is the owner of GAMENESS fight gear and also opened Nashville's very first Mixed Martial Arts academy many years ago. Ed Clay is one of the pioneers of the sport not only due to his role as instructor but also by playing a big part in the legalization of MMA in Tennessee.  Ed has already accomplished so much even before MMA was legal in his home state.  It's hard to fathom the things he may achieve now that the flood gates are open. Without further ado, let me introduce you to Mr. Ed Clay:
PRO MMA: How's it going Ed? The first thing I wanted to do was start right from the
beginning. Could you tell everyone who you are and where you are from?
ED CLAY: I was born and raised in Nashville TN and have lived here all of my life. I've traveled around a lot but Nashville has always been home.
PRO MMA: Could you tell us a llittle about your background and how
you first started training in Martial Arts and how that training evolved into what
you are today?
ED CLAY: I started wrestling when I was 11, boxing at 13 bjj at 15 and Muay Thai at 19. Those are my base MMA styles. I've trained a lot in Sambo and Judo too. I'm a firm believer you have to be at a high level in every area to be a good MMA fighter. You can't have any holes in your game. If you look at GSP, that's what every fighter should aspire to be like. He's a complete fighter everywhere. He's even taking down NCAA division one national champion wrestlers…
PRO MMA: Yours was the very first MIXED Martial Arts School I had seen in Tennessee quite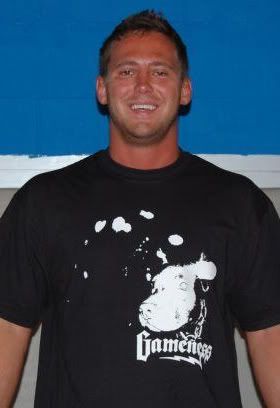 a few years ago. I was walking through Hundred Oaks Mall and saw a sign that
mentioned Gracie Jiu-Jitsu. Up until that point I had just seen the strip mall type
Karate studios and things like that. When did you open your first Martial Arts
school and where is your school or schools now located?
ED CLAY: I opened my school 6 years ago and it grew to be one of the largest MMA schools in the country. We're a pure MMA school. Nothing traditional, nothing that doesn't work. I don't know if we were the first MMA school in TN. I know we were the first in Nashville. We started with very little money and grew it into what it is today. And we're still growing! Good marketing and advertising combined with running upbeat positive classes is what has taken us to a high level.
PRO MMA: Sherdog has your pro MMA recored listed at 3-0, is that accurate? Do you consider
yourself more as a trainer or a competitor in Mixed Martial Arts at this point and
could you talk a bit about the differences and challenges with each?
ED CLAY: That's my correct pro record. Now I'm just a trainer. I still train all the time, but I have no real ambition to fight. Too many injuries now. I don't think my body could sustain a 6-8 week training camp.
The challenges for most fighters is just being able to train all of the time. If you want to be a high level pro fighter, you need to train and only train. No other job, just a fighter. That's hard for most.
You also have to deal with the injury factor. It's very easy to get injured and it was always very hard for me because I was always hurt.
The hardest thing as a trainer is getting the guys to understand that they must be good at everything. They get good at one thing and think that because they're good at one they don't have to work on others. Our training schedule now forces them to train everything and has pretty much fixed that problem.
PRO MMA: I had heard that you had been involved with helping MMA become legalized in
Tennessee. How far are we away from seeing a fully sanctioned, Athletic
Commission-approved, MMA Event in Tennessee? And will you be involved with the
promotion of any upcoming MMA Events in Tennessee?
ED CLAY: Yes I was involved in getting MMA legalized in TN. I hired the first lobbyist 3 years ago to start the process. The fed ex forum picked up the bill this year which was nice.
I will be holding events. I've always wanted a local show where I can build my fighters. Now I have a platform to do this. Hopefully the athletic commission will be formed any day. I am told that it will happen any day so I have my fingers crossed.
PRO MMA: What is GAMENESS and who is involved with that? Does GAMENESS sponsor fighters
and if so, who is sponsored by Gameness right now?.
ED CLAY: GAMENESS is the largest manufacturer of Brazilian Jiu-Jitsu gi's in the world. We're in over 450 schools world wide. We sell a lot of gi's.
With the explosion of MMA, we're starting to focus more on that side of the business. In the next year I think you'll see GAMENESS make a big impact into the MMA market.
We sponsor a lot of BJJ fighters; known fighters Mike Fowler, Chris Morriarty, and Jared Weiner. We sponsor a bunch of other up and comers.
PRO MMA: I know you are in Vegas for Brandon Vera's fight this weekend. How do you know
Brandon and what kind of relationship do you guys have?
ED CLAY: We're on Team Lloyd Irvin together. I fly out to his training camps. I fly different people out to his training camps. Brandon and I are very close. I consider him one of my best friends.
PRO MMA: Who are some other fighters that you've worked with that our readers may be
familiar with?
ED CLAY: Brandon of course, Jeff Monson, Jake O'brien, Steve Berger, Mike Rogers, Mike Pyle, Josh Schockman. Those are specific guys I've helped train that people would probably know. There's a number of other guys I've trained with of course, but I wouldn't say I was part of their training camp.
PRO MMA: One thing we are focused on here at PRO MMA is bringing more attention to
fighters, promoters, and schools around the Southeast. Could you tell us some of the
up and coming fighters at your school that we should keep a lookout for and may be
hearing more about in the future?
ED CLAY: Lance Patrick, Ryan Delorenzo, Earl Medley and Josh Schockman. I think all 4 of these guys could have a bright future. I have a ton of guys at my school coming up that could be very good if they put the time in. Within 5 years I think the Gameness fight team will be known world wide as one of the top teams
PRO MMA: I'm told that you have an MMA radio show on 104.5 FM here in the Nashville area.
That's incredible to have something like that on FM radio. What's going on with that?
ED CLAY: It's the highest rated non syndicated sport show in the country. We were the very first FM radio show to do an MMA show. Darren Mcfarland and Chris Pappas are the co hosts with me. Darren took a chance on MMA when everyone told him there was no market and we proved them wrong! The show is a huge success!
PRO MMA: One of the guys on our staff here at PRO MMA, Denny, trains at Guardian MMA in
Murfreesboro and tells me you're pretty tight with the owners of Guardian. What is
the extent of your relationship with them?
ED CLAY: Cliff and Doug are friends and teammates. Cliff is a brown belt in the Lloyd Irvin association. They have a great school and are doing a great job. Cliff's a very solid competitor and great coach.
Doug does more of the business side and is doing a great job too. They have over 200 students now and are really growing fast!
PRO MMA: What can we expect out of Ed Clay in the future?
ED CLAY: I think within 5 years we'll have one of the top fight teams in the world. We're going to start recruiting world wide for the Gameness fight team. You'll see ads in major magazines and we'll build it up like a regular sports team. With MMA legal now in TN we have everything in place.
People have doubted a lot of what I've done for years. I was talking to Eddie Bravo the other day and we were laughing about how when I was 19 years old I told him everything I was going to do. I reached all my goals about 3 years early so now I've got new ones. I'll reach them and set new ones again.
They can expect me to kick ass at whatever I do!LOL
PRO MMA:  Thanks so much Ed for taking the time to speak with us. Is there anyone you want to
thank or is there anything else about Ed Clay that you woulld like our readers to
know?
ED CLAY: Not so much about me, but more my business and my fighters. I'm pretty boring. LOL You can check out our website at Nashvillemma.com
I've got to thank my parents, Shane Messer, Lloyd Irvin. My staff, Shawn Hammonds, Ray Casias, Spyder, Eddie Bravo, Dan Lambert, Jeff Monson and all the guys who have stuck with me all of these years. These guys believed in my vision and believed in me. Now we're all seeing the benefit and it's great! I also always like to thank Dana White and Zuffa for blowing MMA up. Those guys are gangster business men and I love their style!
Note:  Now everyone can listen to Ed Clay's MMA Radio Show that airs on 104.5 FM – The Zone from Nashville.  If you aren't in the Nashville area you can listen live online every Friday at 2pm here:  1045thezone.com